This week the Pole Barn Guru answers reader questions about using cardboard and heavy plastic to vent and insulate a pole building, use of straw bales an insulator, and best way to ventilate and reduce roof noise.
DEAR POLE BARN GURU: On my 42×63 2 story pole building (heated first floor) I have trusses 9' o.c. standard roof purloins 2' o.c. I was wondering if I could use cardboard up against steel roofing for venting air flow of the humps in the steel roof panels (standard steel w/ 1" humps not standing seam ) then install heavy plastic on bottom of purlins and fill cavity w/ cellulose blown insulation. Would this work correctly for ventilation of steel and insulate correctly. Combination of being cheap/frugal and I have free heavy cardboard from washers/dryers/refrigerators to fit between purlins. Greatly appreciate your opinions. Thank you. BEN in EDEN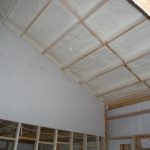 DEAR BEN: Code requires a one inch minimum of airflow across your entire roof surface above batt insulation. Air flowing only at steel ribs would be inadequate to meet requirements. Assuming you have 2×6 roof purlins, 5-1/2 inches of blown cellulose would give you roughly R-19.25. You would be better served by using 2-1/2 to 3 inches (R-17.5 to R-21) of closed cell spray foam applied directly to underside of your roof steel, as it does not have to be vented above.
DEAR POLE BARN GURU: Hi, I read your post on bale infill with a pole building (https://www.hansenpolebuildings.com/2013/04/straw-bale-homes/). When I called to get more info, the rep told me that Hansen strongly advises against it, but he also said he hadn't heard about that idea. Is there someone there that has worked with a client who has used straw bale walls to infill between the posts? KEVIN in RENO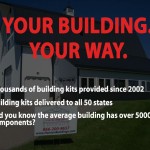 DEAR KEVIN: Your call happened to be routed to one of our newer Building Designers. Post frame construction is highly complex, with a literal unlimited number of possibilities, this being one your designer was unfamiliar with.
In general straw bale homes seem to have been a passing fad, however if you strongly feel this is your best option, please call again and ask to speak with Rachel – our most senior Building Designer, and she can assist you better.
DEAR POLE BARN GURU: I am looking for a underlayment for my pole barn. I have metal roofing with horse stables below. There are no side walls to my pole barn. It's all about ventilation for the animals here in NC. It's supposed to add a few degrees in R value. It also helps deaden the sound of rain. Everyone talks about double bubble but this is supposed to be different. Thank you, FRANCES in TRYON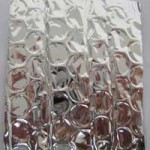 DEAR FRANCES: Without having to pull off your building's roof steel, install some fashion of condensation control then reinstall it – there is only one practical solution – two inches of closed cell spray foam applied directly to underside of your steel roofing. This would provide an R-14 insulation value. It is unlikely to have an effect on reduction of noise from rain, as it is not good at blocking sound waves. "Double bubble" offers little to no R-value and would require being installed between framing and roof steel.