This week the Pole Barn Guru tackles reader questions about recourse against a builder that "never does what what he says," a question about the necessary post size for an RV shelter, and the need for a structural engineer to answer the question, and advice for a reader whose doors blow out wondering if sliding doors are the solution— probably not.
DEAR POLE BARN GURU: Thanks, I have a builder who has not done one thing right. The details are long and frustrating. What recourse do I have? It seems there is no codes in Heavner, Oklahoma I would like to send some pictures. I am disabled and to not have stress. This guy lies and never does what he says. Never got a contract, asked several times. KENETH in HEAVNER
DEAR KENNETH: Hire a Construction Attorney Now.
Do not give this builder any more money.
You have probably now realized you have committed a cardinal sin of building construction – hiring a builder, without a contract.
For those of you following along at home: ALWAYS THOROUGHLY VET ANY CONTRACTOR https://www.hansenpolebuildings.com/2018/04/vetting-building-contractor/
And contracts are boring, until you go to court: https://www.hansenpolebuildings.com/2021/06/contracts-are-boring-until-you-go-to-court/
DEAR POLE BARN GURU: What size post needed for 26 by 26 with 12 foot high wall and 4/12 beam roof RV port. DON in OMAHA
DEAR DON: This is a question best answered by an engineer who is going to seal your building plans (whomever you are purchasing your building kit should be including them). While I cannot give you actual engineering advice, I can tell you what will not work.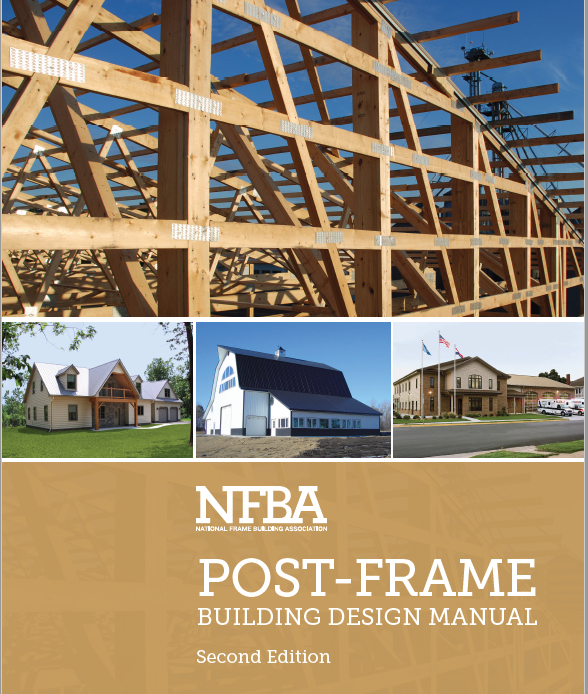 In a roof only post frame building, columns act as cantilevers (think diving board). There is a minimum column dimension calculation, based upon a column's unsupported length. In most cases, this unsupported length is from top of full concrete backfilled hole, to bottom of roof trusses.
Let's take a look at a 6×6 (actual dimensions of 5-1/2″ x 5-1/2″). The L/d (Unsupported length divided by least dimension of column) ratio must be less than 50. 12 feet equals 144 inches, so 144 divided by 5.5 equals 26.18 – but, NOT SO FAST, columns are also impacted by a 'magical' factor known as Ke. For a purely cantilevered column Ke is equal to 2.1. Therefore 26.8 times 2.1 equals 54.98, as this is greater than 50 and a 6×6 would fail.
Greatest unsupported length of a cantilevered 6×6 column would be 130.95 inches. This does NOT take into account loads having to be carried by this column (snow, wind and seismic), hence your need for an engineer to verify structural adequacy.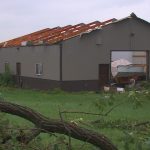 DEAR POLE BARN GURU: I've had my 2, 12 x 12 panel doors blow out and my roof dropped 1/4 mile away twice in 2 years. I'm thinking barn doors to maybe be a good idea for my door replacement this time as they mount outside, which will make it much harder for the wind to bend them. Do you make or can you suggest a door to replace these doors this time that will not get blown out by the wind? Thanks for your time and trouble. JOHN in SOLANO
DEAR JOHN: Sliding 'barn' doors are probably not your best design solution as very few of them will withstand high winds. What you actually need (at least my recommendation) are wind rated overhead doors. Whomever provided your doors originally (and replaced them) did you a true injustice. https://www.hansenpolebuildings.com/2014/12/wind-load-rated-garage-doors/