This week the Pole Barn Guru take care of reader questions about getting an occupancy permit in Victor ID, the size and scope of building a single-slope with a loft, and the addition of a lean-to to an existing structure.
DEAR POLE BARN GURU: I follow your posts and have seen some who question if a pole building can be built as a home and get an occupancy permit. I have some property in Victor Idaho, Teton County Idaho building department. My question is: Can I build a small (about 1200 square feet) building in Teton County Idaho and get an occupancy permit to live in it? Thanks! AL in SURPRISE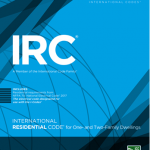 DEAR AL: My first experience with Teton County was nearly 30 years ago – when, as a General Contractor, we built a post frame building for Driggs Plumbing. Fully engineered post frame buildings are 100% Code conforming structures and when designed appropriately for Risk Category II and a R-3 (residential) occupancy they make for excellent homes. I have read through Teton County's Building Department information online and see no minimum footprint requirements for homes, however you would be best served to give a call to Teton County's Planning and Zoning Department at 208.354.2593. https://www.hansenpolebuildings.com/2020/01/your-barndominiums-planning-department/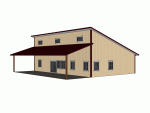 DEAR POLE BARN GURU: Hello. We are in the planning stages of designing our home and are thinking of building a 40×60, single slope home with a loft on the tall side. Have you ever designed anything like this? I am having a hard time figuring out what height walls I would need and what pitch roof in order to accommodate a loft. I am thinking that i would like 10' ceilings and 8' ceiling for the loft, but worried that being vaulted, I will lose usable room space fast. Please let me know if you can help. Thanks! NATE in BIXBY
DEAR NATE: For sake of discussion, let's work from a 12′ loft width. Allowing for your requested ceiling heights at low side of loft, and thickness of floor and roof system, a 22′ height is not unrealistic at this point. With a 3/12 roof slope (typically a minimum to prevent voiding roof steel paint warranty) your eave heights would be 25′ down to 15′.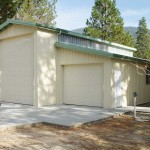 DEAR POLE BARN GURU: How to tie a self-supporting lean-to onto my existing pole building? Ham Lake city inspector said my existing pole building footings don't support the added weight of a lean-to and therefore need posts on the high side of the lean-to. Pole Building is 30×64. Lean-to is 19×64. Ham Lake inspector says you don't need to tie the buildings together other than the lean-to roof tucked underneath the existing roof. The 9 posts on the high side lean-to will be 1′ away from the existing 9 post on the Pole Building. I want to tie these two posts together. I'm thinking of cutting a hole in the siding and nailing a 2×6 onto each post at the top somewhere. Do you have any suggestions? Thanks. KEITH in HAM LAKE
DEAR KEITH: Your Building Inspector is absolutely correct. I see far too many cases similar to yours where a lean-to is added onto an existing building and due to inadequate footings results in an up-and-down roofline. Not certain why you would want to go through efforts of trying to connect those columns, and any meaningful connection could result in loads being inadvertently transferred between buildings. To me, it sounds like more work and efforts than it could ever be worth. We had this very same situation when we added a 30′ x 96′ lean-to to our 96′ x 96′ warehouse. We did not tie columns together and have never experienced any sort of negative challenges from it.