Insulating an Existing Pole Barn When Things Started Wrong

Reader TOM writes: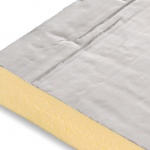 "Mike,  I have an existing pole barn (6×6 post with 2' on center girts ) that has a 4" concrete floor with 10 mil plastic under it. The side walls have 1" XPS insulation on the outside of girt then steel siding with no wrap or barrier. My thought is put Tyvek on inside of girt ( facing same direction as if on outside application ) then put inch and a half XPS DOW insulation against that ( because there's two bunks already there) then 2×4 frame with batten insulation between them, then 6mil or heavier vapor barrier then OSB. The floor has PEX tubing in it but not hooked up. Is this a proper install?  Also I will have to have an engineer check the BCDL as I want to put OSB on the ceiling but would like to know how to insulate the ceiling. There is a one foot fully vented overhang with a ridge vent also. Thank You for the info in advance. 

Mike the Pole Barn Guru advises:
I am concerned about your building having an inch of XPS insulation between girts and siding. This allows screw shanks to flex, potentially creating slotting under screw heads and excessive deformation can result in your building cladding's shear strength being compromised and (under extreme circumstances) racking enough to create a failure. I would feel much more comfortable if you were to add 7/16″ OSB or 1/2″ CDX plywood to the inside of girts in bays on each side of corner columns from splash plank to eave girt.

Moving forward….

Your external XPS is now acting as a vapor barrier (or close to it). Any exposed to inside seams should be taped. Do not put Tyvek on the inside of the girts, as this would allow any moisture in assembly to be trapped between it and XPS. Unless you already own a pile of 1-1/2″ Dow insulation, skip it and instead fill the balance of the wall cavity with rock wool or stone wool unfaced batts. Do not place a vapor barrier on the inside or seal OSB on the inside of the wall. Walls will now 'dry' to inside.

Provided your trusses are capable of supporting a ceiling, blow in fiberglass above your ceiling finish of choice. Make sure to allow at least an inch of air space above insulation at eaves so you get proper air intake from vented soffits. Unless you are very close to Canada and have at least 8000 heating degree days, do not add a vapor barrier at ceiling level.