This Wednesday the Pole Barn Guru kicks off 2022 with reader questions about framing loads using heavy duty steel roof trusses, a stone siding wainscot, and lap siding. Mike then addresses questions about footing pads, and finally creating a pole barn home.
DEAR POLE BARN GURU: I am planning to build a pole barn 36×40 on 10' centers with heavy duty steel roof trusses on 6×6 posts. The wall height will be 10' and I would like to have 3' faux stone for siding at the bottom with the rest of the siding hardi plank cement board. Would the weight be too much for a traditional pole barn style framing? NICK in CROSBY
DEAR NICK: Unless you are using some sort of heavier duty steel roof trusses much more significant than typical welded up ones, they are generally not capable of carrying any sort of a roof snow load – it won't make any difference in Texas, but would further North.
It is likely your building's engineer will require wall girts bookshelf style in order to make them stiff enough to meet Code deflection criteria for deflection (walls have to be much stiffer when using sidings other than steel). He or she should also be verifying diameter of footings under each column will be sufficient to support weight being added. You are making a significant investment here, I would hate to see your hard earned dollars go for naught due to under engineering.
DEAR POLE BARN GURU: You all have an article on the use of Footing Pads.  https://www.hansenpolebuildings.com/2014/05/footingpad/
Are you all having luck with these?  Concrete is a little sky high right now.  Just trying to find people / companies that have utilized these and the pros and the cons! FRAN in NORMAN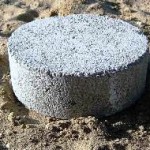 DEAR FRAN: Our engineers typically detail bottom of roof supporting column holes with an eight inch thick concrete footing mono poured with 10 inches of concrete up each side of columns, resulting in a total depth of pour of 18 inches.
With a 24 inch diameter hole (largest size footing pads are manufactures in), this pour would take 4.71 cubic feet of concrete (just under 1/5th of a yard), ignore amount of concrete displaced by column itself. At $200 per yard, this would equate to under $40 per hole. To compare, a 24 inch diameter Footing Pad sells for $64.99, making poured concrete both less expensive as well as a design solution capable of resisting column uplift.
DEAR POLE BARN GURU: I have single "shed roof" plans that I want to use on my owned Washington state property, although I do not have an architect. I have attached a drawing of the home. Is it possible to work with Hansen to create a pole barn home. I want to use metal roofing and siding. Thank you STACIE in LEAVENWORTH
DEAR STACIE: In most instances, homes do not require an architect's investment. Our team can work with you to customize and/or tweak drawings you have sent to best meet your wants and needs.
Here are some considerations:
Plan tips to consider:
Direction of access – driveways are not cheap and shortest distance between two points is a straight line.
Curb appeal – what will people see when they drive up? This may not be important to you, however some day someone will try to resell your barndominium.
Is there an appealing view?
North-south alignment – place no or few windows on north walls, but lots of windows on south wall. Roof overhangs on south wall should provide shade to windows from mid-day summer sun.
Is there a slope on your building site?
Work from inside out – do not try to fit your wants and needs within a pre-ordained box just because someone said using a "standard" size might be cheaper. Differences in dimensions from "standard" are pennies per square foot, not dollars.
Popular home spaces and sizes need to be determined:  https://www.hansenpolebuildings.com/2019/09/room-in-a-barndominium/ and https://www.hansenpolebuildings.com/2019/09/the-first-tool-to-construct-your-own-barndominium/.
With all of this in mind, order your custom designed floor plans here: http://www.hansenpolebuildings.com/post-frame-floor-plans/?fbclid=IwAR2ta5IFSxrltv5eAyBVmg-JUsoPfy9hbWtP86svOTPfG1q5pGmfhA7yd5Q
Our team will be reaching out to you as well.