This week the Pole Barn Guru discusses issues with condensation in a new building, advice for adding a loft, and achieving a roof load for prefabricated metal trusses.
DEAR POLE BARN GURU: Hello, I have a new construction pole barn that I recently had put up. The building is used to primarily house animals. When I had it put up I was told I would have to condensation issues with eave vents and a ridge vent that would extend the whole length of the building. The dripping really bothers me and I was wondering if there is a good option of putting a barrier of some sort on the bottom side of the purlins? My rafter spacing is 8ft. THOMAS in NEW SALEM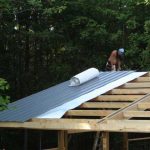 DEAR THOMAS: In most instances eave and ridge vents are inadequate alone to prevent condensation. Contractors who fail to include some sort of thermal break between roof framing and roof steel are doing a severe disservice, in my opinion. It is so easy to accomplish at time of construction with products such as a Reflective Radiant Barrier or Integral Condensation Control. There is not a good option for an underside of purlins vapor barrier, as it is nearly impossible to adequately seal it. Your only real solution, at this point, would be to use two inches of closed cell spray foam on underside of your roof steel.
DEAR POLE BARN GURU: My wife and I are building our post frame building ourselves. We're building a loft living area on 1 end which I'm using 11.875 x 2.5 x 20′ long I-joist 16″ center.
My question is, My 6×8 posts are 8′ centers, can I attach a single 2x12x8′ between these posts and attach the I joist hangers to this to support the floor or will I need to double them like a header?
Thank you ALLAN in FORT ATKINSON
DEAR ALLAN: Any lofts, second or third floors being added to post frame buildings should only be done so under design of a Registered Professional Engineer – ideally whomever was Engineer of Record for your original sealed building plans. Rarely do concrete footings below building columns have adequate thickness or diameter to support additional loads being implied to columns. In most instances, beams for support of floor joists, I joists or prefabricated floor trusses will be limited in capacity by deflection, rather than ability to carry a given load. I can guarantee a single 2×12 is inadequate to support your I joists.
Your engineer will also determine proper number and size of fasteners to support beam to column attachments. At a minimum, with a 50 pound per square foot total floor load, columns every eight feet and a 20 foot span, each connection must support 4000 pounds of load.
Please, I implore you, do not attempt this floor design without proper engineering guidance – it could be lifesaving.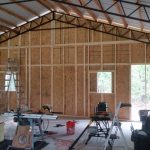 DEAR POLE BARN GURU: We are building a pole barn that is 20 by 32 with 8ft spacing. We are using steel trusses for this project, but our roof load for this county is 120lb per square ft., so how do I achieve this or how many trusses I would need to put in? Any help would help thank you. CHRIS in EMMETT
DEAR CHRIS: You should reach out to whomever provided your trusses to get an engineered repair. You should be able to have additional members welded onto what you have in order to meet required loads. On larger spans, this type of repair might not be possible.