Post Frame Barndominium Building on Expansive Soils.

When I was a 1990's post frame building contractor we trained our sales team to be diligent in looking at soil cuts near where our potential clients were considering erecting new post frame buildings. These cuts could tell us much about what was happening below the surface and potentially impacting digging conditions and ultimately performance of a new building.

Reader STACY in BERTHOUD writes:

"Hello.
My wife and I are looking at building a pretty large Barndominium on some lake front land that we have owned for more than 20 years but we are on expansive (high clay content) with a tested swell of 8-9%. 
Background Info:
The house portion would be approximately 2800 sq' and the shop/garage portion is about 8000 square feet. The shop portion will store vehicles, Large RV, boats and leave recreational space for gym, Pickleball Court and an enclosed area for dusty work such as wood working and metal fabrication. 
We have a Morton out building there currently that is 42/75 with a fair amount of slab cracking. Although not hindered the function for a non heated barn, I would want the home to perform better. No Over Excavation was done but probably should have been. 
I cannot seem to find advice on if this is doable with a pole barn structure given the soils. They feel that deep cassions setting on a full perimeter grade beam is required which will totally blow the budget on a structure this size. I am trying to find out if this is true or is there a Over Excavation strategy that would be reasonable and how that perimeter detail might look for a tight, well insulated structure?
Any advice or specialist you could point me towards is greatly appreciated. 
Thank you!"
Mike the Pole Barn Guru responds:
My lovely bride and I live in an 8000 square foot, 44 foot tall post frame shop/house in NE South Dakota (we look across Lake Traverse at Minnesota). Minnesota is known as the land of 10,000 lakes. Many of these lakes resulted from glacial erosion causing physical and chemical changes creating small particles required to form clay soil. This clay sediment is both very fertile and makes for excellent lake bottoms!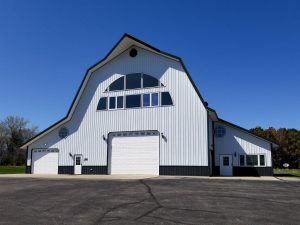 Our particular building site had significant amounts of clay and we chose to excavate it out (over excavate) and replace with compactable fill. Our site is also built up, so any rain or snowmelt runs away from our home. After 15 years of service we have only minimal hairline cracks in our slab on grade – even though we have been through winters of seven feet of frost! Our building has no perimeter grade beams and our columns are embedded in concrete six feet below grade.

Most Building Departments in your area require engineered soils reports prior to construction. A qualified geotechnical engineer can determine a best course of action to avoid or limit adverse reactions from clay soils.

Here is some further reading: https://www.hansenpolebuildings.com/2019/06/post-frame-construction-on-clay-soils/
and https://www.hansenpolebuildings.com/2020/07/barndominium-on-expansive-soils/