This question was put forth by reader TARILYNN in FREEDOM.

It (or a similar variant) also gets posted roughly 10 to 20 times daily in various social media groups.

I spent most of a decade as a registered General Contractor in multiple states. At times we would have as many as 35 crews erecting buildings in six states. We had some very, very good crews – among them ones I had do work for me personally. Even being best does not come without some potential pitfalls and pratfalls however. About once a year or so my best crew would, for whatever unexplained reason, totally struggle with a building. Maybe it was a bad planetary alignment, but it does happen.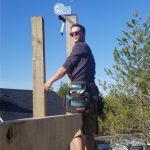 An absolute best way to avoid unforeseen challenges with a builder is to do it yourself.

Here at Hansen Pole Buildings we provide fully engineered, custom designed post frame buildings, with multiple buildings in all 50 states. Our buildings are designed for average physically capable persons who can and will read instructions to successfully construct their own beautiful buildings (and many of our clients DIY). Our buildings come with full 24" x 36" blueprints detailing location and attachment of every piece, a 500 page fully illustrated step-by-step installation manual, as well as unlimited technical support from people who have actually built buildings. For those without time or inclination, we have an extensive independent Builder Network covering every state except Alaska and Hawaii (although some of these builders would probably volunteer to travel to them, depending upon time of year). We can assist you in getting erection labor pricing as well as introducing you to potential builders. We would appreciate an opportunity to participate in your new home, garage, shop or commercial building. Please email your building specifics (or barndominium plans), site address and best contact number to caleb@hansenpolebuildings.com (866)200-9657 .

Prior to contracting with any building contractor (even one proposed by us) we strongly encourage you to read this series of articles: https://www.hansenpolebuildings.com/2019/11/a-contractor-for-your-new-barndominium/