A trending garage accessory is an addition of a garage vehicle lift. Vehicle lifts provide many benefits for your post frame garage or shop than just being able to work on your vehicle.
A vehicle lift for your garage is exactly what it sounds like, it will elevate your vehicle so you can either work on it or benefit from extra space it'll provide.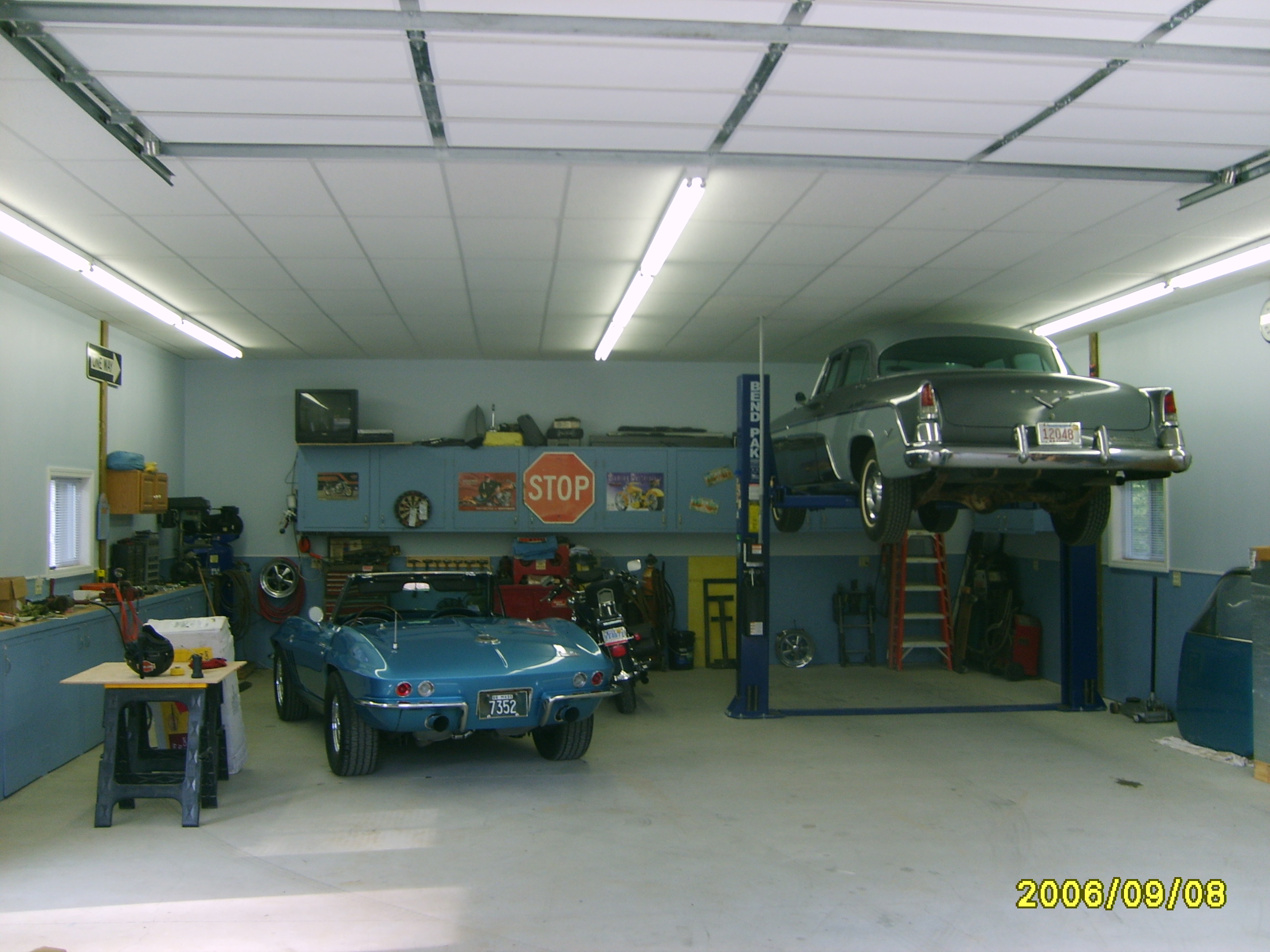 There are a few standard types of garage vehicle lifts you'll find in most people's garages. Here are popular vehicle lift types:

Scissor lifts are most standard vehicle car lifts and are more for solely to work on vehicles.
They lie flat when not in use and you park over them before you elevate your vehicle. They are very easy to use and don't take up a lot of space.
They do prohibit ability to work underneath your vehicle and are mainly ideal for wheel and brake work as well as some under-engine jobs. Scissor vehicle lifts are also the least expensive option.
Two-post vehicle lifts are commonly found in professional auto shops, however they're starting to pop up in people's personal garages.
They feature two heavy duty posts on each side with braces connecting them where your vehicle sits. When raised, you'll have complete access underneath your vehicle to perform any repair.
They also take up relatively little space so you can still utilize the rest of your garage. Two-post lifts are more permanent options as they need to be bolted to the floor and require periodic maintenance to make sure everything stays tight and level.
Four-post lifts are becoming increasingly popular in residential garages for their ease of use and benefits.
They feature four solid posts and a set of tracks you drive onto so you can lift your vehicle up. Many homeowners are adding them due to ease of use.
They can support the heaviest of vehicles and are ideal for smaller garages where you want to create more space. Their only drawback – you can't do any repairs to wheels or brakes as they're sitting on lift tracks.
With an addition of a four-post lift, you have an ability to park another vehicle underneath the lifted vehicle. This is especially great for people who have smaller one vehicle garages.
No need to pick and choose who gets garage privileges anymore. Keep in mind you'll need to move the bottom vehicle before you use one on top, so plan parking according to who needs to leave home first.

Now I have always told clients they need to design their new post frame garages with 12 foot clear ceilings, in order to accommodate a vehicle lift. My own garage happens to have only a 10'6" ceiling so I had always thought myself to be out of luck for a lift.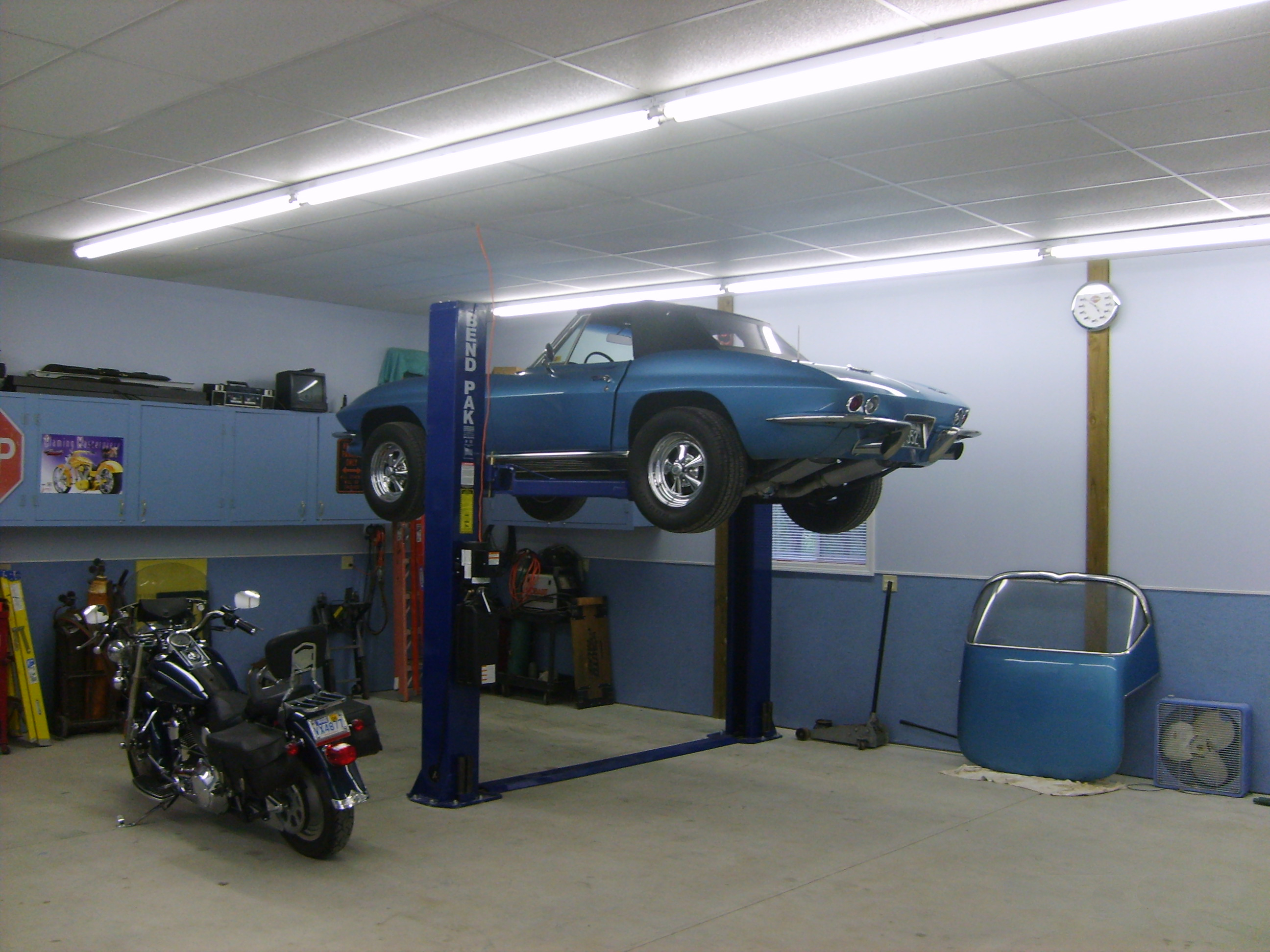 Reader MIKE in FRANKLIN recently wrote: "What is the minimum sidewall height for a simple car lift – 12 feet?"
While BILL in RAYLAND writes: "Could you tell me the steps I would need to take to raise a 40Wx60L and ten foot high garage ceiling to a cathedral type ceiling from normal trusses to the cathedral type, in order to fit  a 2 post car lift?"
Well Bill, I am going to save you money and make you a happy camper! My lovely bride Judy and I just returned from NSRA's (National Street Rod Association) Mid-America Nationals in Springfield, Missouri. A show exhibitor was Champion Auto Lift (www.ChampionAutoLift.com) and their lifts are specifically designed for those with lower ceiling heights such as yours and mine! They assure me 10 foot height ceilings are plenty sufficient for their lifts!