How to Find Barndominium Subcontractors

As a new barndominium General Contractor, you will need to line up subcontractors (subs) to do work you cannot or will not do. But, how does one go about finding these subs?

My first call is to my nearest Home Builders Association (find them here https://www.nahb.org/NAHB-Community/Directories/Local-Associations).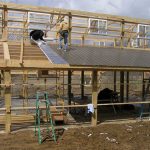 If unable to find a sufficient number (ideally three from each category), visit the ProDesk at your local The Home Depot and ask for names and numbers.
A good contractor is a working contractor, especially during a recession or other downturn in housing starts. This is not always true, but it is a pretty safe bet. Really good ones are sought after and always busy because they do good work and are reliable.
If you can't find a contractor through your Home Builders Association or The Home Depot, next best place to look is on a job site. Find a house under construction. Stop and ask around. You can get names, prices, and references. This takes only a few minutes. It is done frequently and other general contractors shouldn't mind. Chances are he or she probably won't even be there. 
Often you will find the boss or owner of a subcontracting firm is on a site working. Get his number and arrange a meeting. Sometimes there are signs at job sites advertising different subs.
Only certain contractors are found on the internet. Most independent building erectors are not. You should however, be able to find heating and air-conditioning companies, plumbers, electricians, roofers, appliance retailers, and a few others.
Each subcontractor should carry insurance on his or her employees and should provide you with a certificate of insurance. Since this is your first experience and you won't be familiar with prices in your area, get three or four bids, or quotes, from different subs before selecting one. Use a written contract with all subs.
Subcontractors and contractors may have their own contracts. At any rate, use one. Don't trust anyone's memory when it comes to dollars or who is to do what and when. Spell out your specifications thoroughly in your contract to be sure your bids are comparable and all subs are bidding on the exact same work.