Back in my general contractor days we would run into building sites where water would fill up some or all of our hole depth. While this seemed highly problematic then it was actually far less of an issue than originally presumed.
Reader RACHEL in CLARK writes:
"We are looking to put up a 24′ X 32′ pole building in my backyard to be used as a garage/wood shop. We are located in a lower spot in town and have been told our water table is fairly high. I am wondering what type of foundation is going to be the best to use? (Floating Slab vs Sinking Poles vs Sinking Concrete Piers under a slab?). We are hoping to do most of the work ourselves."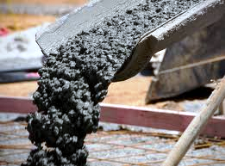 Embedded columns for post frame buildings are almost always both a best and least expensive design solution. Auger holes to depth and diameter indicated on your engineered building plans (always build from engineered plans). If water appears in your hole, it is not a problem, as you can pour concrete into water, professionals do it often. Order pre-mix concrete for your footings and bottom collars with a minimum amount of water content (a W/CM ratio of 0.33 would be ideal).

After about two hours your concrete will have transitioned from a plastic to solid state. Ground water will become your concrete's friend as it will aid curing processes. Chemical reaction of hydration allows microscopic crystals of Portland cement to grow and interlock as sand and gravel together continues to happen for days, weeks and months after concrete has been poured and it needs water to complete this chemical reaction.

Provided you have available space, you may consider going to a 36 foot length – it takes no greater number of columns, trusses, girts or purlins and will reduce your investment per square foot.