A Wednesday Edition of PBG! Bonus Round! Home finishes, Color Samples, and Cupola Framing.
DEAR POLE BARN GURU: Do you also finish out the home, not just the shell? DONNA in LEXINGTON
DEAR DONNA: Hansen Pole Buildings are designed to be constructed DIY by average physically capable folks who will read directions. Many of our clients do there own construction. Should you not have time, ability or inclination, our independent Builder Network has excellent coverage. Most of these contractors are specialists at erecting building shells. Some also provide concrete finishing services. There are a few who provide total General Contracting services and can turnkey your building, if desired.
DEAR POLE BARN GURU: Hi – I saw a question about getting samples of colors. Would it be possible for us to get a sample please? STEPHANIE in BELLE VERNON
DEAR STEPHANIE: Please email your snail mail mailing address to Bonnie@HansenPoleBuildings.com and advise her you would like color samples sent to you. If you are after specific colors or shades, please advise.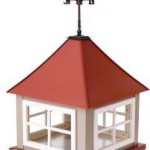 DEAR POLE BARN GURU: What does the truss framing look like for a Cupola? CURT in SPRINGFIELD
DEAR CURT: Nearly all cupolas are light weight prefabricated units screwed down on top of your building's roofing. There is no need to have any changes in your roof trusses to support them.