This Monday's questions are addressing the issues of ventilation with gable vents, the use of plasti-sleeves to protect posts, and the cost per square foot of a post frame home.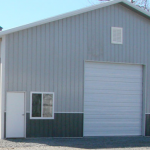 DEAR POLE BARN GURU: My dad has a 40 x 60 pole building. It has 18″ eaves but the soffits are non vented. The building also has no ridge vent. He has not had any moisture issues but is looking to add gable vents as a means to get rid of fumes from occasional painting and or welding. The building is open with no closed attic space. Is there any issues with adding gable vents for this purpose? BILL in COEUR d'ALENE
DEAR BILL: There should be no structural issues with adding gable vents, although they may not cure your dad's fume issues. It may be prudent to add a powered exhaust fan.
DEAR POLE BARN GURU: How to protect the wooden poles when pouring cement floors—doesn't this deteriorate the poles? Thanks. LINDA in BEAR CREEK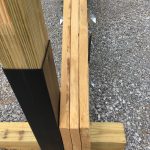 DEAR LINDA: Building Codes actually REQUIRE lumber in contact with concrete to be pressure preservative treated. There is no documented research to prove concrete (or one of its components – cement) deteriorates properly pressure preservative treated columns.
If you are overly concerned or unsure about this, we can provide Plasti-sleeves with your engineered post frame building package. https://www.hansenpolebuildings.com/2012/04/plasti-sleeves/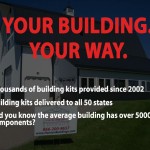 DEAR POLE BARN GURU: What is the cost per square foot on building a Barn Home? If this isn't feasible, then what is the cost for finishing a purchased Barn Home Kit? JOEL in COLUMBUS
DEAR JOEL: Barn homes (aka barndominiums or post frame homes) can have finished costs ranging from $50 to hundreds of dollars per square foot depending upon your individual taste and how much work you are willing to do yourself. This article will assist you in formulating a budget: https://www.hansenpolebuildings.com/2019/07/how-much-will-my-barndominium-cost/