Today's BONUS Round of PBG discusses backfill compaction, finding an engineer to draw blueprints for a building of reclaimed wood, and the ins and outs of insulation.
DEAR POLE BARN GURU: I have 18" diameter x 60" deep pits for 6×6 posts. My backfill material and method is ¾"less gravel with every 8" compacted. But how to compact inside of pit with 6×6 post located center of pit. HIRO in TUMWATER
DEAR HIRO: Tamp soil firmly every six inches of fill depth, or less, to achieve a minimum 2000 psf (pounds per square foot) compaction. To compact properly, use a hand operated 4×4 eight feet in length raising it four feet and dropping four or more times on each four inch square area. Compaction proof: when a 2×4 butt end will not penetrate over 1/8" under 170# of pressure.
DEAR POLE BARN GURU: I am planning a post and beam self build. I do not want to use a kit. This will be a totally reclaimed wood build I need BLUEPRINTS not a floor plan. I have my basic floor plan. Located in 40353. Any suggestions for who can do this for me at an affordable price? DEE in MY STERLING
DEAR DEE: For engineered blueprints in Kentucky please try reaching out to Patrick McGuire, PE SE in Boston, KY. (574)367-8305 www.patmcguirepe.com.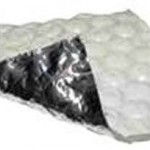 DEAR POLE BARN GURU: I am planning to build a 40 x 60 pole barn, my plan is to insulate it over time with metal panels on ceiling with blown insulation and batts on walls. My question is would bubble wrap or double bubble under roof panels and house wrap on walls be the best way to go for construction of building? (It was suggested to me to use OSB under roof but that seems like it would add a lot of cost if not needed) ROBERT in TIPP CITY
DEAR ROBERT: Thank you for reaching out to me. Here is my Ultimate Guide to Post Frame Building Insulation https://www.hansenpolebuildings.com/2019/11/post-frame-building-insulation/