Full View Aluminum Sectional Barndominium Overhead Doors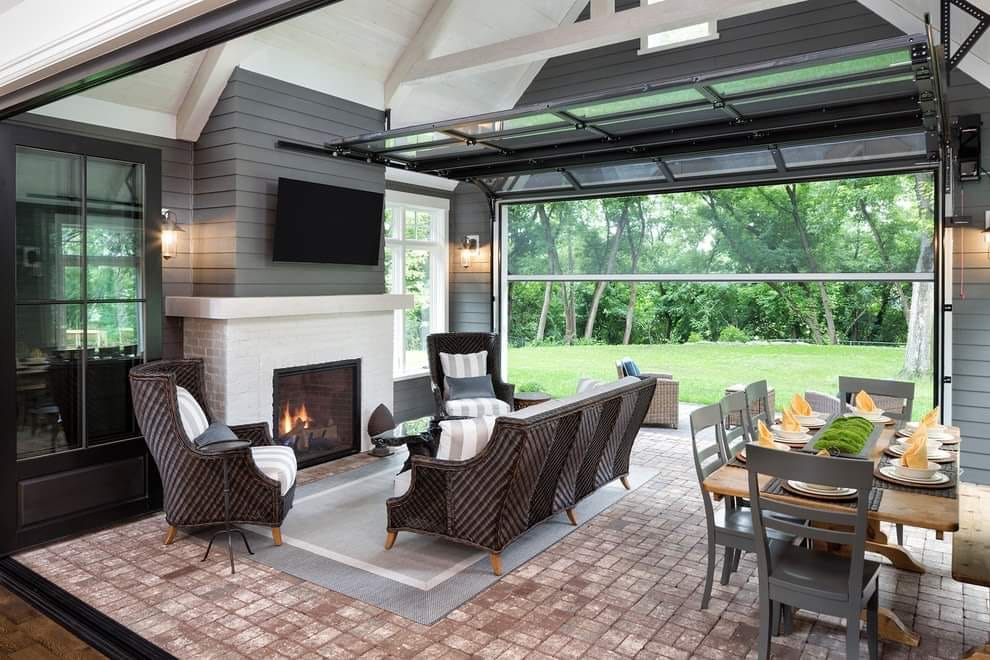 Sleek, modern building designs are becoming increasingly popular with architects, builders, and homeowners alike.  For barndominiums, shouses and post frame homes, sometimes a steel overhead door doesn't have a just right "look."  Hansen Pole Buildings offers a line of Aluminum Full View Amarr doors with multiple options, including recently expanded colors and panel offerings!
How do you know if an Aluminum Full View, or AFV, door is right for you?  Here are some benefits of AFV doors you may want to consider when weighing your options.
Increased visibility. 
Amarr's Vista VI1000 is a great residential option for homes wanting increased visibility from a garage door.  Want to see outside, or be able to see in?  Clear glass panels allow this to occur.  For a bit more privacy, you can also get different glass types, like Obscure or Frost, cutting back on visibility.  Visibility can be important if you want your AFV door to open up to another room, or to outside.  We have seen AFV doors in family rooms and off dining areas – bringing outdoors in! Increased visibility can be a benefit for commercial applications as well.  For example, a car dealership or service station with commercial Amarr 3502 or 3552 doors can easily see when a car is approaching service bays! One of my favorite eateries is Black Sheep Coal Fired Pizza. Their Nicollet Avenue location in Minneapolis features AFV doors, perfect for summer afternoon and evening eats!
Increased natural light. 
Bring outdoors inside.  AFV doors really let sunlight in!  Another benefit of natural light is natural, solar heat in your garage or room.
Don't worry about cold. 
Amarr Vista VI1000 & Amarr 3552 have insulated glass options and insulated panels to ensure energy efficiency, while still having increased natural light and visibility.
Complement your barndominium home. 
Amarr offers a variety of frame, panel and glass options to match your style.  With an unlimited selection of powder coat aluminum colors, over 30 glass options and solid, perforated or louvered vent panels, you can select a look just right for you and your family's lifestyle.