This week the Pole Barn Guru answers questions about converting an upstairs space in a pole barn to a living space, Plans only packages, and a basic building kit.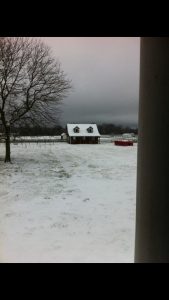 DEAR POLE BARN GURU: I have a 30×30 pole barn with upstairs 2 story shingle roof. Want to convert it to a living space for my grandchildren and their mom my son passed away she needs a place to live.
Thank you RICH in CREAM RIDGE
DEAR RICH: You should begin by finding out if your local Planning Department will allow you to convert this barn into a residence. Once you assured they will be happy, you should engage a Registered Professional Engineer to determine if it will be structurally adequate to be used as a residence.
DEAR POLE BARN GURU: Hello, Do you sell plans for pole barns?  I live in Canada and work as a social worker working with at risk youth.  My wife and I use horses as a way to work with children who have difficulty in communication, self-esteem, anger and other concerns that prevent them from reaching their full potential. 
The struggle we have is that everything we do is outside which means we simply cannot do anything during the winter and early spring months.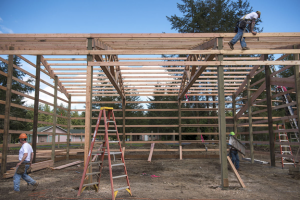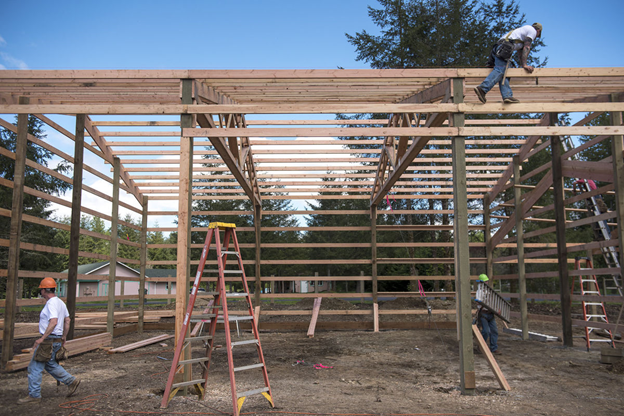 I have talked to several builders and truss makers who insist that trusses must be spaced every two feet so for a 100 X 60 pole barn I would need 51 at a cost of $30,000; factoring in all of the other costs it is simply out of our reach.  I have read that you suggest trusses can be spread further apart and one of the builders I have spoken to said I should ask for some plans and he would see what he could do, however is very skeptical.
I sincerely hope you can assist and thank you in advance.
Many thanks. PETER in ST. GEORGE
DEAR PETER: Thank you very much for your interest. We are not a plans service, we do supply engineer sealed plans with all of our buildings (along with complete installation instructions). Currently we are unable to design to Canadian Building Code, however we hope to incorporate this option in 2020. Right now, all of our Canadian friends are ordering buildings designed to U.S. Codes. Trusses most certainly do not have to be every two feet. Depending upon your snow load, I would expect to see a pair of trusses every 10 feet. We do have a sample plan available on our website: https://www.hansenpolebuildings.com/sample-building-plans/
DEAR POLE BARN GURU: Hello, are the base prices listed for the kit only or does that include shipping, tax and installation? NATE in EFFINGHAM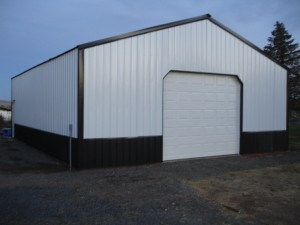 DEAR NATE: Thank you for your interest in a new Hansen Pole Building. Prices listed at https://www.hansenpolebuildings.com/pole-barn-prices/ are for engineer sealed plans, complete materials package delivered to your accessible site, 500 page step-by-step installation manual and unlimited free technical support. Sales tax varies by state (and sometimes city or county) and we only collect in states mandating we do so.
While our buildings are designed for an average physically able person to assemble their own beautiful new building, should you be not so inclined, installation services are available through our Independent Builder Network.