Fire Separation Requirements for Barndominiums and Shouses
Loyal reader CHUCK in MERINO timed asking this question perfectly, as fire separation requirements for barndominiums, shouses and post frame houses had just made it to my list of subjects to research and comment upon.
Chuck writes:

"I was wondering if you could pen your interpretation of the construction details pertaining to the separation wall and/or sheetrock detail of each side of a shop and house all being under one roof?
I live in rural Logan County Colorado with no official construction inspection required (other than state electrical and plumbing). This is from the county website:
"Logan County has adopted the 2006 IBC building code and the 2006 Energy Conservation Code.  All new structures must be compliant with these codes. No building shall be erected, occupied, moved or structurally altered until a permit therefore has been issued by the Building Department.  Building Permits are required for roof repair or replacement"
Thank you Guru, you are the best!"
Good question, glad you asked and thank you for your kind words! I also appreciate clients who want to do things right, even when plan reviews do not exist and there are no inspections. Meeting Code requirements is a fire, life and safety issue.

I was always brought up believing it took 1/2″ drywall on the house side of a wall between garage and house and 5/8″ Type X on the garage side. If the garage side did not have a ceiling then drywall had to run up to the roof line. Even when I worked for a sheetrocker as a teen, this is how he did everything. All made sense to me.
Well Building Codes have their own ideas. If your shop (aka garage) is 1000 square feet or less, then it is classified as a "U" occupancy and these are requirements:

Garage to residence or attic – 1/2″ gypsum board on garage side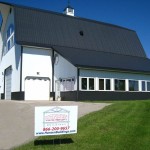 If there is a habitable room above garage – 5/8″ Type X gypsum board on ceiling
Doors between garage and residence shall be 1-3/8″ minimum thick solid wood, solid or honeycomb-core steel doors not less than 1-3/8″ thick, or 20-minute fire-rated doors, equipped with a self-closing or automatic-closing device.

If your shop/garage is over 1000 square feet, is becomes an S-2 occupancy and fire separation requirements get tougher:

If equipped with an automatic sprinkler system one hour fire separation is required, if no sprinklers two hours. If the area (shop/garage) is used only for private or pleasure vehicles, then it can be reduced to one hour. 
I have run into this two-hour rating requirement before with a gambrel style barndominium, where our client was living upstairs and parking below. Because it "looked" like a barn, our client's Building Official required two-hour separation. Walls and columns supporting this second floor also were required to meet two-hour requirements! No amount of debate was going to change this Building Officials' mind either.

To achieve a one-hour rating would take a layer of 5/8″ Type X gypsum wallboard on each side of a wall, or two layers on a ceiling. A two-hour rating would double these requirements.

I personally like 5/8″ Type X and use it on walls and ceiling everywhere in our shouse. It lies much smoother than 1/2″, does not dent as easily, plus it affords added fire protections, with minimal added investment.