A shouse (shop/house), barndominium or post frame house project may seem daunting, however by doing lots of reading, research and asking questions, an average individual can craft for themselves a home they love, tailored to meet their family's wants and needs.
Loyal reader ROBERT in OLYMPIA writes:
"Hello to the Pole Barn Guru or whoever reads this!
​I came across Hansen Buildings a few years ago when I first became interested in pole barn homes, and have been following the content posted by the Pole Barn Guru in various places online- always great information!  I am finally zeroing in on purchasing a piece of land and I would like to get some more information on going the "Hansen route," either for a shouse or a house and detached shop, or for just a shop.​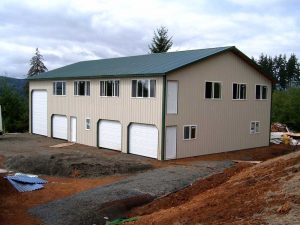 ​I've spoken with my county's planning department and was informed that there would be no problems building what I want.  The land is already improved with water and septic, is nice and flat, is south facing, and is zoned accordingly.  There is actually a building permit currently active from the previous owner's stick built project (who passed away, and never further than the dig out for his foundation).  They told me that I could bypass some of the headaches (such as the Pocket Gopher review process) if I renew the permit before it expires (4/2020) and submit the new site plans…​
​My ideal setup would be:​
​– 50x90x(16 or 18) building​
-around 1200 square feet of living space, 2 bath, 2 bed, 1 "office"​
-3300 square feet as shop space with 1 bath and 1 utility sink.  Wired with electricity & lighting.​
-Very energy efficient (insulation, doors, windows, leakage).  Prefer spray foam if budget allows.​
-ERV?​
-1 large garage door/bay, 3″ thick​
-All large windows to be south facing with appropriately-sized overhangs (passive house principal).  These overhangs could potentially be in the form of a covered porch.​
-Enclosed overhang with vented soffits, but only on the eaves & vented ridge cap.  Solid gables.​
-Concrete piers with post brackets.​
-slight outward slope in concrete where garage doors meet concrete to make water drain away from/out of shop.​
-at least 2 drains in concrete – 1 near door, and one near a corner​
-insulated concrete slab w/ hydronic heating, sealed concrete flooring throughout (no other floor covering)​
-Possibly add ductless heat pump mini-split for additional heating if necessary. ​
-No cooling system necessary.​
-modestly finished interior​
-Ikea or similar non-custom kitchen​
-self-sourced appliances​
​Questions:​
​Someone at the Thurston county planning department told me that while the project definitely is doable, it might make more sense to build the home and shop as separate structures.  He mentioned that because they were attached, the whole building would have to meet WA energy code.  I guess he was implying that it would be cheaper to construct the shop separately if it didn't have to meet that code?  Because I would like the shop to be insulated, does this really apply to me?  I've heard that insurance could potentially be cheaper with a detached setup, but I can't seem to find anything concrete about that.  Have you found that to be the case?​
​As I mentioned I would like to do hydronic radiant heating (probably by Radiantec) throughout the home and shop.  From my research that seems like the most cost efficient way to heat (mass rather than air).  However, the shop doesn't necessarily need to be kept at "living temperature" all the time.  I would like it to be comfortable while I'm in there, but beyond that I just need it to stay above about 40 degrees.  I'm interested to hear your input on this.  In reading, it seems like whenever people opt for something like a radiant tube heater or mini-split for the shop, they always regret not going with radiant floor heating.  Natural gas is not available at this location, so my options are propane, oil, wood, or electric.
​Because I'm very new to the world of home building, I'm not sure what other requirements there would be in building this.  I know that there are some pretty detailed drainage plans that exist for the previous project on the property, and I'm wondering who is in charge of creating new drainage plans for my project?  Does Hansen do that type of thing?  Or someone local to me?​
​Pricing/plans:  Is it possible to get some sort of idea about costs/cost breakdown for the type of building I described?  How about for separate structures?  I love the idea of doing some of the work myself, I'm just not sure how realistic that really is with my work schedule, especially in the summer.  I would probably need contractor(s) to take care of the majority of the major work.​
​Do you have any floor plans similar to what I've described?  I have a few different ideas on different floor plan ideas but it's probably easier/cheaper to just use some existing plans.​
​I love the "Shouse" idea but I find it a little overwhelming because there is not a "turn key" option like what exists from traditional home builders like Adair Homes in Olympia.  So to get the job done would require basically managing the project with a crew of different contractors to finish the shell, concrete, insulation, electrical, plumbing, finishing, etc……I just would really prefer something a little different and more energy efficient than standard construction.​
​As of right now, I think those are all of the questions that I have.​
​Thank you very much for your time and I look forward to hearing back!​"
​Mike the Pole Barn Guru responds:
Come back tomorrow for Part Two.