This Monday the Pole Barn Guru answers questions about a new a heated floor in a new workshop, adding a large sliding door to a building, and the metal gauge of a beverage can.
DEAR POLE BARN GURU: Hello, New fan of your site 🙂   We are designing a 40×80 pole building workshop for heavy equipment, with radiant in-floor heating.  Contractors want to use rigid foam board under the concrete, we are concerned about crushing under the weight of equipment, and then the concrete cracking.  What do you suggest?
Thank you, AL and LORI in COLUMBUS
DEAR AL AND LORI: Welcome, I am hopeful you have gained some information of value. Your 40 x 80 pole building workshop would be very happy as a new Hansen Pole Building.
Your concrete contractor is correct you will want to install XPS (Expanded Polystyrene) foam sheets over your vapor barrier (and below concrete). You can specify a product's compressive strength, but it appears even standard 25 psi should be adequate.
Although I have not tried it myself, I have read of others who have had two to four inches of closed cell spray foam applied directly over their prepared site. This would both act as a vapor barrier and as under floor insulation.
DEAR POLE BARN GURU: How much does a 20 foot wide x 13 foot high metal single sliding door with track and hardware cost installed in zip 51561 CHARLEY in PACIFIC JUNCTION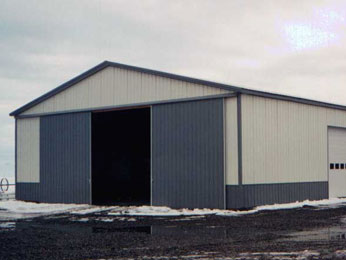 CHARLEY: We are not building contractors, so would have no idea. You might try contacting the Pro Desk of your local The Home Depot® to see if they could recommend a contractor who could tackle your project.
DEAR POLE BARN GURU: What gauge metal is the wall of an aluminum beer can or Coke can? How many millimeters thick is it? LETITIA in ONEONTA
DEAR LETITIA: My now adult children have accused me of being a wealth of knowledge when it comes to all things of worthless trivia. It just so happens I have written an article on this very subject: https://www.hansenpolebuildings.com/2012/05/steel-thickness-2/