Why It Is Essential to Supervise Professional Installers
In an ideal dream world, one would be able to hire a professional installer and know the job would be done right, without the need for hands on supervision.
RYAN in ELLENSBURG recently contracted out the roof steel installation of his new Hansen Pole Building kit package and this was his report:
"My roofer finally showed up yesterday and I wasn't able to supervise the installation, so several mistakes were made but the one I'm most uncertain of is that the ridge cap was installed with diaphragm screws instead of stitch screws. He also left off all of the closures so the ridge cap has to come off anyway. My question is whether or not it can be reinstalled with stitch screws because of the difference in screw profile."
Mike the Pole Barn Guru says:
It is a shame to have invested in a professional for installation and not be able to leave them alone and expect the job to be done correctly. The diameter of the diaphragm screws is larger than a #12 stitch screw (which was provided to attach the ridge cap). In the event the roofer placed the diaphragm screws so as they were driven into the solid wood of the ridge purlins, then you could do the same once again. Otherwise you are probably going to need to invest in some #14 diameter stitch screws.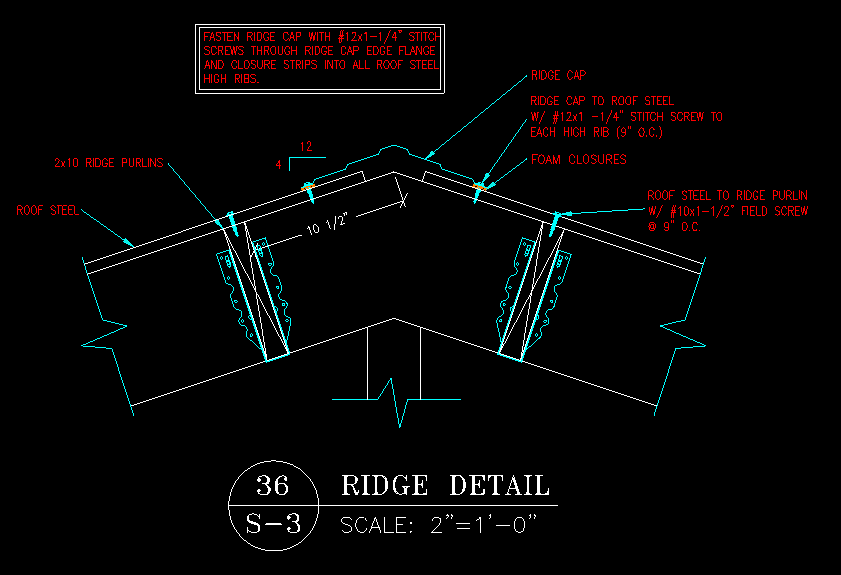 Well, it turns out it was worse than originally imagined, as Ryan wrote back:
"Yes, I agree. That's just the beginning of the list of issues with the installation. On top of that none of the insulation seams were taped together, screws that missed the purlins were just left in place with no wood block placed behind them so they will leak at some point, the insulation was placed over the peak of the roof so the ridge cap that is supposed to be vented can't flow any air, and none of the closures (vented closures and eave closures) were installed. It's really disappointing because he did the roof on my house 3 years ago and I thought he'd done a good job on that, now it makes me wonder what corners were cut on that job, too."
Mike the Pole Barn Guru:
There are ways to avoid being sadly disappointed by a contractor:
(1) Do it yourself. Hansen Pole Buildings are designed with the Do-It-Yourselfer in mind. The step-by-step construction manual covers every aspect of assembly. If you can and will read the instructions, chances are you will have a better finished product than what any builder will construct for you.
(2) Still want to hire a "professional"? Require a performance bond. (read more here: https://www.hansenpolebuildings.com/2012/07/contractor-bonding/).
(3) If you hire a contractor, familiarize yourself with the Hansen Pole Buildings' Construction Manual and be onsite during construction to make certain the contractor does the work correctly.