Pondering a Cabin Dilemma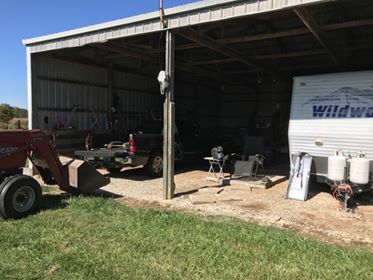 With barndominiums, shouses (shed/houses) and post frame homes becoming increasingly popular, there are many who gaze fondly at existing pole barns and consider converting some or all of these spaces into living areas.
Reader MATT writes:
"Hi, I've been following your links and comments on different pages and trust your opinion on a dilemma I've been pondering. I have some recreational/hunting ground in IL and it has a 40×60 loafing shed open to the south. It's a Bonanza building from maybe the 80's. Great for equipment and parking a camper in but it's dark and dreary in the camper and my wife doesn't like it, lol. My dilemma, convert one 15' bay into a nice one or two room living area with windows in front and on one side wall for weekend use or…..build a small cabin in the barn lot and forget about using the shed. I'm not sure if there is any value in building inside of the old shed since I have plenty of land to spot a cabin. It's off grid so utilities are not a factor. One plus is the shed doesn't look like anything from the road and in effect offers camouflage from break-ins. A basic thumbs up or down will be appreciated! Thanks and keep posting the helpful info on pole barns."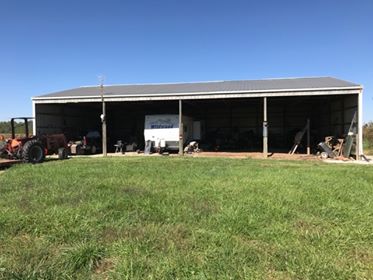 Thank you for placing your faith in me. I do make a concerted effort to give best possible answers – even when it is not what people want to hear. Whether it makes money for Hansen Pole Buildings or not, our desire is to see people get into buildings they love and feel they have gotten a great value.

My friend, I am sure you have heard this adage before, "If Momma ain't happy, ain't nobody happy." It sounds like your ground may become less recreated unless some upgrading is done.
In order to convert some or all of your existing building you would need to have it reviewed for structural adequacy by a Registered Professional Engineer, ideally one with a fair amount of post frame (pole barn) building design experience. There are very few of these engineers around and you want to do it right. Ideally an engineer who is a NFBA member (www.NFBA.org National Frame Building Association). It is  just not worth risking life or limb, damage to one's valuables, or having other unexpected issues. Chances are good your footings are inadequate, columns may require adding members, wall girts are certainly over stressed, if you intend to support an attic off trusses, they will require an engineered repair. This is just a partial list. 
You can probably build a nice post frame cabin for less than using your existing building. Hansen Pole Buildings' Designer Rick Car is currently erecting his own hunting cabin in Wisconsin. You can find his story in my blog articles over recent months. Go to www.HansenPoleBuildings.com click on SEARCH in upper right corner of page. Type in a search term and relevant articles will be brought up. To find Rick's story, type in his name.