Recently KIM in STRATFORD posted this question to a Facebook Barndominium discussion group I am a member of:
"I am trying to finalize my plans today. Is it possible to have 8′ side walls and still have a 6′ overhang open porch on the eave side of the house? I have a 5/12 pitch on the house portion and actually wanted two separate roof lines, one for the house and a separate one for the porch overhang. House is on a slab so no built up foundation walls. I'm not sure if this porch will be too low with the porch roof UNDER the house roof and with a slight slope for water drainage…. Any experts out here?"
Mike the Pole Barn Guru responds: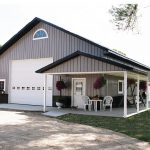 For starters, most steel roofing suppliers will not warrant steel placed on slopes of less than  3/12. Continuing out from your main wall six feet at a 3/12 slope will place underside of your overhang at roughly six feet and six inches. Not only could this become a head ringer (at least for my son who is 6'6" tall in his bare feet), but it is going to block clear view out windows in this area. It is also just plane going to feel low.
I did some researching, however I've been unable to find a Building Code requirement for clearance below an overhang, however I would have to believe seven foot to be a bare practical minimum. 
You could:
(a) Build over a crawl space, instead of a slab – raising elevation of home and affording a more comfortable surface to live on (https://www.hansenpolebuildings.com/2019/03/slab-on-grade-or-crawl-space/) ;
(b) Increase house wall height – you could maintain an 8′ finished ceiling and have raised heel roof trusses to allow for full depth attic insulation from wall-to-wall (very good idea) https://www.hansenpolebuildings.com/2012/07/raised-heel-trusses/ ;
(c) Use roof trusses wide enough to span from opposite wall to outside edge of porch, with a pitch change at junction between porch and home.
Dial 1(866)200-9657 and ask to speak to a Building Designer. Your call is free and we have great solutions for you.