Roll formed steel is my siding of choice for post frame (pole barn) buildings. It is going to most cost effective, most durable and easiest to install. There are some who decide (or are forced to decide due to local restrictions) to opt for wood sidings.
Reader TOM in SAN JUAN CAPISTRANO is one of these and he writes:
"We are building a 36×48 pole barn. Bottom half is 2×6 T&G pine and upper is cedar board and batting. What should we treat the wood with to protect it and let it age naturally?"
Mike the Pole Barn Guru responds: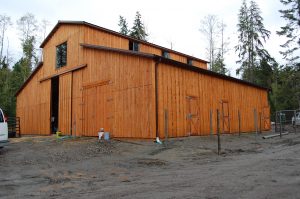 Even if your new post frame building siding is made of redwood, cedar, or some other durable species, it's at risk immediately. There are several culprits. Moisture swells wood while sun's burning rays dry and shrink it, causing cracks and checks while also encouraging warping. Ultraviolet rays also discolor wood and accelerate wear by breaking down the wood fibers. Add in mold growth in shady spots, and discoloration from weather and most wood siding starts to look old within a few years.
Avoiding damage is simple enough. Treat surfaces with a water-repellent finish. Even the cleanest wood sidings are at elemental mercy without a right finish.
Choosing from among several hundred sealers out there is less simple. You'll also have to decide whether to do it yourself or hire a pro. Here's how to take the guesswork out of protecting siding you just installed.
Most post frame building owners do work themselves because they can save money. Materials will run between 20 and 30 cents per square foot.
If you don't have time to do it yourself, you can hire a contractor. And frankly most pros don't have much experience. This makes checking references and visiting past jobs especially crucial. And because most pros have their favorite products, you'll probably have little say about ones used on your siding. Expect to pay between 60 cents and $1 per square foot for materials and labor.
Wood siding finishes fall into two categories: sealers and stains. Both are formulated to seal out elements. As their name implies, clear sealers are non-pigmented finishes. Stains are available with a little pigmentation (referred to on label as "tone"), semitransparent, and in solid colors. Unlike paints, which form a surface film, clear and pigmented finishes penetrate wood.
"The ideal finish does three things," says Charles Jourdain, vice president of technical services at California Redwood Association, a lumber-industry trade group. "It repels water, preserves the wood with a mildewcide, and screens out UV rays." Some products waterproof only. For maximum protection, the label should list all three features.
Finishes are either oil- or water-based. What you choose depends on your priorities. According to Mark Knaebe, a chemist with U.S. Department of Agriculture Forest Products Laboratory who evaluates deck finishes, oil-based finishes provide more and longer-lasting protection. "Oil-based finishes penetrate deeper into the wood than water-based finishes," Knaebe says. Familiar names here include Cabot's, DAP, Flood, Olympic, Thompson's, and Wolman.
Water-based products are easier to clean up than oil-based products. They're also more forgiving in damp conditions. While wood surfaces must be bone-dry before accepting an oil-based sealer, damp wood can absorb a water-based product. Water-based finishes also last longer than they did just a few years ago. Companies like Wolman and American Building Restoration Products (X-100 Natural Seal) make a water-based version of their product.
Clear finishes are popular because they allow wood's natural grain to show through. And because they're transparent, you can't leave any lap marks during application, a common problem with pigmented finishes. But, they aren't as good at blocking UV rays.
Best UV protection comes from a combination of chemical inhibitors and color pigments. Though inhibitors in some clear finishes slow UV penetration, they tend to break down relatively quickly. Result is most must be reapplied yearly.
Lightly pigmented and semitransparent finishes add color while allowing some grain to show through; they also form an effective UV barrier. More pigment a finish has, the better it is at blocking UV rays. This is why a sem-itransparent finish will last up to three years or more before another application is needed.
Solid-color finishes offer most UV protection.
For do-it-yourselfers, there are two drawbacks to pigmented finishes. They leave lap marks or areas where the finish is uneven if not applied carefully.
Figure on spending $15 to $25 per gallon for a good clear or pigmented finish. Finishes costing less probably won't provide all protection your siding needs.
Waiting nine months to a year before applying finish to new wood siding used to be standard procedure. Leaving wood unprotected lowers interior moisture content and allows pores to open and accept more sealer or stain. Unfortunately, it also contributes to weathering. Instead, apply finish on new siding within a few weeks. Then apply a second coat following year. "That second application leaves more finish in the wood. Doing it right also lets you wait two or three years before putting on another coat," says USDA's Knaebe.
One exception to finishing right away is new lumber with a waxy buildup. This mill glaze won't allow finish to penetrate and any finish applied to it will peel off in a few months. You'll know it's there if water from a hose beads on wood surface. Mill glaze can also appear as a burnished area. In either case, wait two or three weeks so surface can weather slightly. If water still beads up, sand lightly. Apply finish when temperature is above 50°F and weather will be dry for a few days.