This week Mike the Pole barn Guru answers questions about foundations, effectiveness of insulating a sliding barn door, and where to buy a sliding barn door.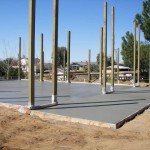 DEAR POLE BARN GURU: Hansen Team, in beginning my post frame home over a full foundation, I am reading your excellent load bearing considerations for the posts through the foundation into the footing. Realizing the foundation is a critical and unique structural system in my design, can you recommend a PE for South Carolina who has experience in designing for pole barn foundations? FRANK in TAYLORS
DEAR FRANK: Our third party engineers have designed thousands of post frame (pole barn) foundations and can incorporate your needs into our design. As you will be living in this, may I suggest you consider using prefabricated wood floor trusses, rather than joists? They will give a flat finished basement ceiling and afford space for both duct work and plumbing.
DEAR POLE BARN GURU: Is there such a thing as an insulated sliding barn door? (exterior) . CHARLOTTE in HOPLAND
DEAR CHARLOTTE: Yes there is such a thing however it is going to be minimally effective. Steel framed sliding doors are either 1-1/2 (typically) or 3-1/2 inches in thickness. Closed cell spray foam insulation would provide greatest insulating value at approximately R-7 per inch of thickness. Now your problem – in order to slide past adjacent siding, a space must be provided between door and siding. Heat and cold will pass through this air gap.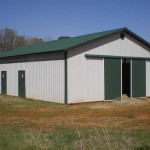 DEAR POLE BARN GURU: I need two metal sliding barn doors. Each door 6' x 8.5'. DAVID in RUTHERFORDTON
DEAR DAVID: Thank you very much for your inquiry. Due to challenges of shipping without damage, Hansen Pole Buildings only provides doors along with an investment in a complete post frame building kit package. We would recommend you check at the ProDesk of your local The Home Depot®.