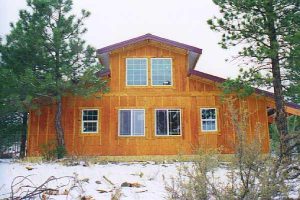 Barndominiums, shouses and post frame homes all fit into a similar category to me. This category heading would be titled, "Living in a Post Frame Building", although other construction types may be used, post frame is going to give most bang for your investment.
What if you want to D-I-Y construct your own post frame barndominium, but need to borrow in order to build?
Only once have I ever gotten a construction loan for myself and then I happened to be an experienced General Contractor with a successful track record. It was also through a bank we did most of our commercial banking with and we had far more money in our account then what our construction loan was for.
Most new D-I-Y barndominium folks are not experienced General Contractors. Things could be somewhat more challenging if you fall into this category. Even with a high credit score and significant down payment, most lenders doing construction to permanent loans require a full plan, timelines, etc., and only pay out when certain milestones are met.

I am all for people doing it themselves. I see far too many horror stories from people who have hired contractors. Thankfully lots of happy stories from clients who did it themselves. If you are going to be your own General Contractor here are some things to keep in mind:

If hiring a sub-contractor to do any work get it not only in writing, but also with a contract covering all possible bases. Great contracts make great friends. Do not expect any contractor to perform more than exactly what is spelled out in writing.

Have good insurance. We live in a litigious society and there are too many people who avoid taking responsibility for their own actions. Don't have your dream home train derailed due to an uninsured or under-insured construction project.

Pay people. Whether out of pocket or from construction loans – pay vendors and subcontractors promptly, provided they perform as anticipated. Take advantage of prompt or early pay discounts from vendors with a track record of reliability.