Connecting Trusses Not Dots
This feature is probably not overly mentioned, however as most structural failures involve connections, it probably should be.
FEATURE: Double trusses notched into sidewall columns and connected with Strong-Drive® SDWS TIMBER Screws
BENEFIT: Trusses placed in a notch cannot slide down columns and Strong-Drive® SDWS TIMBER Screws resist uplift forces without a need for boring holes through columns.
WHAT OTHERS DO: A myriad of design solutions exist.
For trusses mounted every two or four feet upon truss carriers (headers between sidewall columns) attachment can be by toe-nail or engineered steel hangers to carriers. In some instances paddle blocks are inserted between carriers and trusses are nailed to these blocks.
With single trusses aligned with sidewall columns, trusses are most often placed into a notch cut into one side of columns. With nail or glu-laminated columns an interior column ply can be cut short to create an integral notch. Truss to column connections may include nails and/or bolts.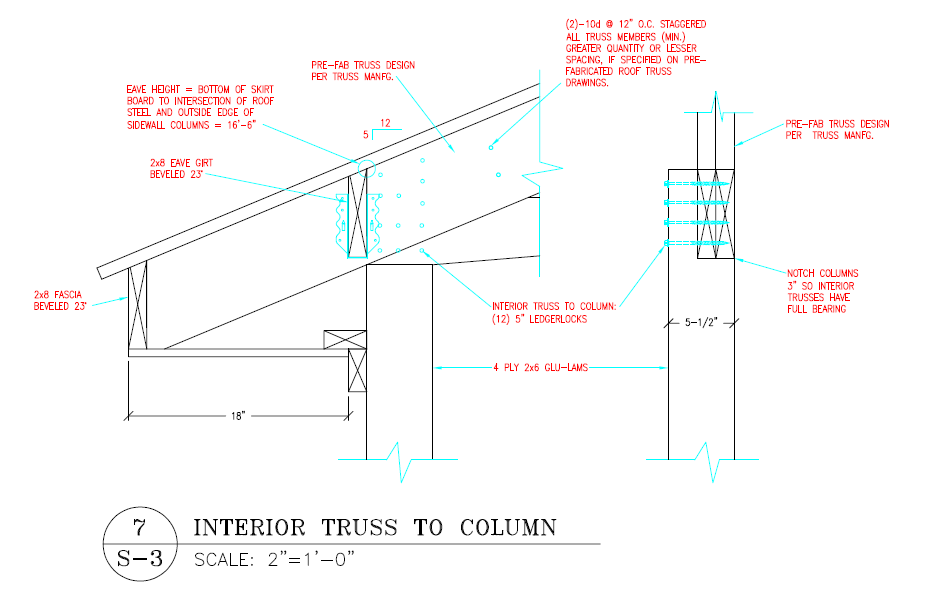 In designs with two single trusses, most often a truss is placed on each side of sidewall columns on top of bearing blocks. Bearing blocks may be nailed, lagged or bolted to column sides. Trusses are attached in same fashion as bearing blocks. Trusses are spaced apart along their length by paddle blocking installed between chords. Under extreme loading conditions trusses and their bearing blocks have been seen driven down sides of columns to rest upon building contents or even, the ground.
A variant on this places trusses closer together so they may be notched into sides of each column. This allows for elimination of bearing blocks and their associated challenges.
At Hansen Pole Buildings, we have trusses physically face-to-face nailed providing for a true load sharing between trusses. A notch is cut into one side of columns for trusses to bear. Attachment of trusses to columns is most often done by use of Strong-Drive SDWS Timber screws.
WHAT WE DID IN 1980: Lucas Plywood & Lumber placed a single truss upon each side of columns, on top of a nailed on bearing block. Trusses were attached to columns by means of a ¾" diameter, non-galvanized through bolt – entailing having to drill through nearly nine inches of wood and hoping to avoid steel connector plates at each truss heel.