Avoiding Pulling a Building Permit?
You have a densely treed rural location or have no neighbors, so you have made a decision to avoid pulling a building permit for your new post frame building.
Think again – YOU. WILL. BE. CAUGHT.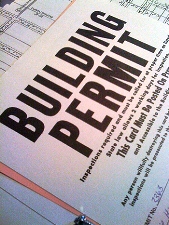 All too often we hear from clients who invested in Hansen Pole Building kits in past years and failed to acquire required building permits. Most generally they contact us because their building's engineer sealed building plans were designed under a now outdated Building Code version. In some cases, clients had failed to verify design criteria for their building site and ended up with a building not meeting required climactic conditions.
Read about why you need to verify design criteria here: https://www.hansenpolebuildings.com/2013/11/design-criteria-3/.
Many, many years ago (Once upon a time) my good friend and then neighbor decided it was time to update his rural lake cabin. Where he was located, it was highly unlikely he would have been granted a building permit to remodel. This challenge was due to his cabin's relationship to a nearby shoreline. He also was located in a highly restrictive state where a plethora of government agencies would have to give their approval. He decided to go without a permit, feeling it would be better to beg for forgiveness than ask for permission.
Beginning in late Fall (after summertime lake-goers left) he and his dad tore everything down to top of ground floor level. Enter me becoming a willing participant in this escapade. Another friend of mine operated a prefabricated roof truss and wall panel manufacturing facility in British Columbia. I sent my neighbor's building plans to him and his workers prefabricated an entire house and shipped it to us in pieces. Beginning Friday afternoon, my friend's entire project was buttoned up in a weekend, adding an entire story plus steeply sloped attic trusses with a bonus room.
My friend got away with it.
Big brother now has technology in its hands to prevent folks from escaping permitting.
New from Eagle View® (www.EagleView.com) comes ChangeFinder™. ChangeFinder™ allows Building Permit issuing agencies to quickly and easily detect changes upon your property. These changes can be validated right from a desktop or laptop computer through use of Pictometry® imagery.
In a first phase, ChangeFinder™ creates outlines around current buildings from available Pictometry® imagery. After a flyover, scheduled for spring 2020, a second image will be compared to first. Any additions, demolitions, or other property feature changes will be outlined and a digital parcel file will be provided to your Building Department.
In ChangeFinder's™ process structures of 150 square feet or larger are targeted, such as residential, commercial and industrial buildings; isolated garages, mobile homes, sheds, greenhouses or silos, trailer boxes with windows or doors; buildings under construction and other features with a roof. Attached decks or porches having a roof or railing are also noted.
Vehicles, boats, docks, paved areas, steel or cell phone towers, storage tanks, water towers, temporary tents and billboards are not targeted by ChangeFinder™.
Pictometry® flyovers are typically done once every three years.
Under a belief your new post frame building does not need a Building Permit? Get it in writing from your Building Department, otherwise just do the right thing and obtain a permit to build.