This Monday the Pole barn Guru answers questions about floor plan ideas for a monitor style building, plans for a "Zen Den" or "Party Barn" in an L shape, and whether or not it is worth adding reflective radian barrier under slab.
DEAR POLE BARN GURU: Hello, I am wondering if you have any floor plan ideas for a monitor style pole barn home for 4/5 bedrooms? I am running into a wall trying to create one and can't find many online. I have 1 friend who recently bought a kit from you with a usable upstairs area and that is something that I'm definitely interested in. I believe her plan was 48×50. Any info would be extremely helpful. Thank you! NATE in PEYTON
DEAR NATE: Your friend happens to be one of my most favorite clients – they have been an absolute joy to work with. One beauty of post frame buildings is an broad adaptability to interior layouts. With a monitor style of these dimensions, you could easily have as much as 3600 square feet of floor space. For creating ideal floor plans, here are some tips:
Plan tips – consider these factors:
Direction of access (you don't want to have to drive around your house to get to garage doors)
'Curb appeal' – what will people see as they drive up?
Any views?
North-south alignment – place no or few windows on north wall, lots on south wall
Overhang on south wall to shade windows from mid-day summer sun If your AC bill is far greater than your heating bill, reverse this and omit or minimize north overhangs.
Slope of site
Work from inside out – do not try to fit what you need within a pre-ordained box just because someone said using a "standard" size might be cheaper. Differences in dimensions from "standard" are pennies per square foot, not dollars.
Use the links in this article to assist with determining needed spaces, sizes and how to get expertly crafted floor plans and elevation drawings https://www.hansenpolebuildings.com/2019/10/show-me-your-barndominium-plans-please/
DEAR POLE BARN GURU: We are considering building a "zen den" or "party barn" scenario in our backyard. I have sketched a L shaped scenario that would be perfect for our needs. Is it possible for you all to do L shaped custom? How do I get started? We don't want to mortgage the house for this thing 🙂 CHRISTY in NASHVILLE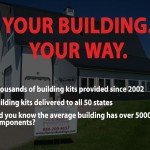 DEAR CHRISTY: Our oldest daughter happens to be the Midwest version of a neighbor to you (here in South Dakota anything under 100 miles is a neighbor LOL) – she is a very successful professional Walking Horse trainer in Shelbyville!
Every building provided by Hansen Pole Buildings is entirely 100% custom – designed to best fit wants and needs of our clients. Whether L, T, Y or U shaped, your only limitations are your imagination and available space. One of our Building Designers will be reaching out to you for more information, or you can email your ideas to caleb@hansenpolebuildings.com or dial (866)200-9657 (please include your site address and best contact phone number if you do).

DEAR POLE BARN GURU: Going to have floor poured in 40×40 pole barn, the barn will be well insulated. My question is putting radiant barrier under floor help at all with losing heat and cold coming through the floor will not be heated be an overhead shop heater. Walls will be r30 and ceiling is roughly r50, or is it a waste of money? Thank you. SHANE in FOSTORIA
DEAR SHANE: A reflective radiant barrier under your slab will not make any appreciable difference. You would be money better spent to use two foot of rigid R-10 insulation vertically below your sidewall steel base trim and backfill it on both sides.