Help! My Overhead Door Jambs Are Rotting!
I am fairly certain this problem occurs more often than I hear about. Reader DAVID in ROLLING PRAIRIE writes:
"Enclosed are two pictures showing my pole building's overhead door. One picture is the inside door jamb that is decaying from water damage and the other one is a picture of the outside J channel and siding above the overhead door. My question what items need to be removed and what needs to be done to repair and seal the inside door jamb area? This an FBi building built in 1989. The outside upper J channel appears not to be sagging and there is no evidence of any leaks from roofing or front walls.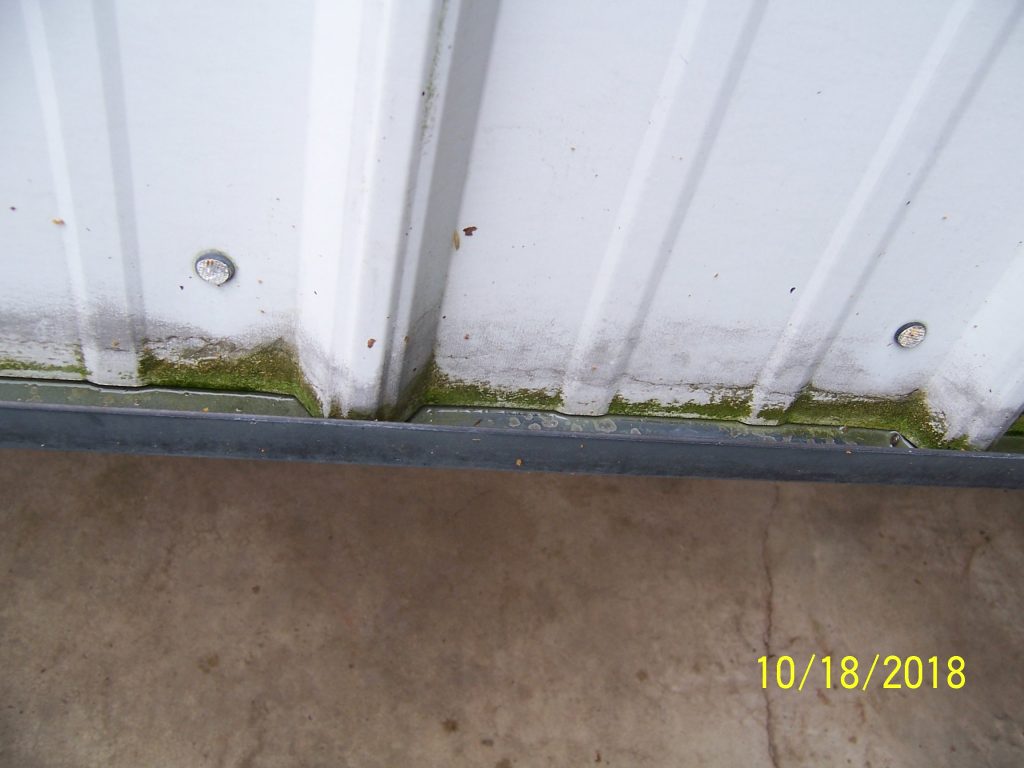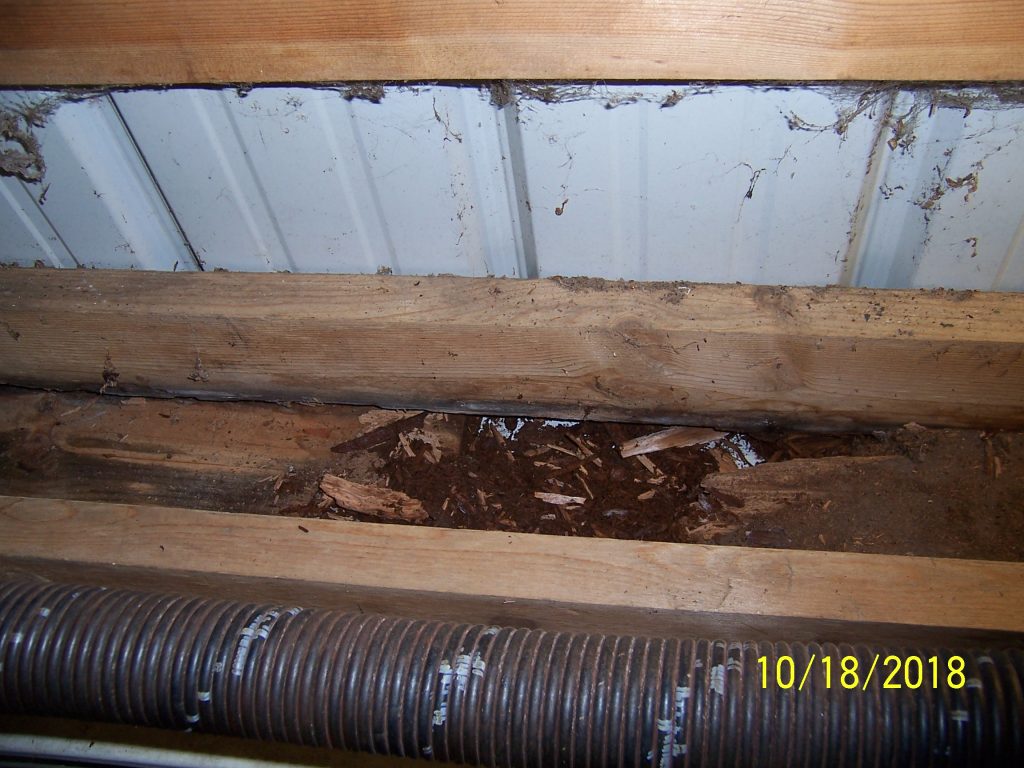 Thank you in advance for any help given."

Mike the Pole Building Guru responds:
Thank you for sending photos. As you can tell from photo of outside J Channel, water has been collecting in channel, resulting in wall steel deterioration. Water most likely enters your building through one or more of – a hole or holes have rusted through J Channel, an uncaulked splice along top jamb length, or poorly executed (and possibly uncaulked) trim intersection at opening corners.

If it was my own building, I would approach a solution in this fashion:
In order to repair this area properly will involve having to remove some siding. Your building's siding was fastened with nails, meaning it will be destroyed in removal process. Therefore, I'd remove all steel siding and trims from this building wall and replace them. Over 29 years your paint has faded and chalked significantly. For replacement I would go with Kynar painted panels (read more about Kynar here: https://www.hansenpolebuildings.com/?s=Kynar). While in steel replacement mode, I would add wainscot to this wall, regardless of whether building balance has it or not. Wainscot will enhance your building's appearance, as well as providing short length panels easily replaced if damaged.

I would remove present overhead door jamb boards and, as a precautionary measure, replace them with pressure preservative treated lumber. Any cut ends I would treat liberally with Copper Napthenate solution. Cover the entire framed wall with Weather Resistant Barrier (think Tyvek). Wrap barrier completely around wood jambs and staple to inside wall. Wooden overhead jambs should be covered with steel trim with an integrated J Channel to receive siding. Place self-adhesive flashing tape (3M All Weather Flashing Tape 8067 or similar) between weather resistant barrier and overhead jamb trim. Avoid a splice in horizontal trim across the top, if possible. Some steel roll formers will make trims long enough for a 16 foot wide door. Overlap trims at corners so any water potentially seeping in rolls onto yet another steel piece. Place liberal caulking amounts behind and between any trim splices or overlaps, especially near corners.

When installing steel siding above door opening, cut panels so bottom edge lands 1/2″ above integrated J Channel low point. This will reduce steel panel premature decay possibility. Use form fitted inside closure strips between these panels and jamb trim flange above the door opening.
Good luck, and please do send me pictures of the final result!