Mike the Pole Barn Guru's World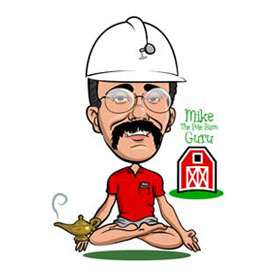 When I began this blog back in June of 2011, I surmised getting to a total of 100 articles would be a stretch, but yet a worthy goal. Well, I have surprised even myself… welcome to article number 1500! What amazes even me – how many possible topics have yet to be written about.
Today, you get taken to Hansen Pole Buildings' back room – where we actually have developed an outline for our Building Designers to follow with new clients. I share portions of this for many reasons, amongst them:
#1 In hopes competitors will read it and learn, in doing so everyone wins. Clients get buildings better serving their needs, competition has happier clients and our industry looks even better. I have always believed if all providers of post frame building kit packages played by a similar set of rules: 1. Every building should be designed by a RDP, i.e. Registered Design Professional, engineer or architect, specifically for a specific client at their specific building site. No getting one sealed drawing and using it for multiple clients.  2. We will figure out how to design your post frame building most efficiently, most cost effectively and with a higher level of service
#2 By being better prepared with information we (or any true high quality post frame building supplier) need, you (future new building owner) will have a smoother journey from planning to occupancy
"Delivering the Ultimate Post Frame Experience™" to every Hansen Pole Buildings' client, every day.
Hansen Pole Buildings has most of our clients first contact us via an internet inquiry. If so, your information has automatically been entered into our database. First thing – I go to your record and see if you have subscribed to our newsletter series.
If you are reading this and are not a Hansen Pole Buildings' newsletter subscriber, go do so now.  They are totally free and you may unsubscribe any time. A sign up link can be found in footer (bottom) of each page of our website. These newsletters are not designed to sell anyone, anything – they are meant to be entertaining and informative. You can read more about them here: https://www.hansenpolebuildings.com/2011/10/pole-building-newsletters/.
For competitors – I encourage you to subscribe also, read them, edit them to fit your own business model and make them available to your clients. Informed clients make for happy post frame building owners.
Next you receive a personal email. When it comes down to it, there exist these four most important points when it comes to making a major investment:
     1)A fair value for money and time invested;
     2) It solves problem(s) or helps to achieve a goal;
     3) Liking and trusting those you are dealing with;
     4) Ability to get delivery within a reasonable time frame.
I encourage potential clients to take advantage of available financing options: https://www.hansenpolebuildings.com/financing/.
All are also directed to contact their appropriate Planning Department to find out if they are allowed to construct the building they want, where they want it (this step helps to avoid anyone wasting time or having hurt feelings): https://www.hansenpolebuildings.com/2013/01/planning-department-3/.
Next up – an email about Exposure C for wind. Pretty much universally most post frame building kit package suppliers and post frame builders quote buildings with an Exposure B, although a great many sites should have buildings designed for a more conservative Exposure C.
For more Exposure C reading: https://www.hansenpolebuildings.com/blog/2011/11/wind_exposure/
https://www.hansenpolebuildings.com/2012/03/wind-exposure-confusion/.
We all live in a world of social media. I want you to know about me and I want to know about you. We do business with people we trust and are our friends. I've had some individual post frame client relationships for decades, as it should be. I want to be your Facebook friend, in your circles at Google Plus, and a Linkedin connection. If you use Skype it adds yet another method for us to stay in contact.
Lastly and most important, I want you and I to talk. Although you might believe you really know what you want in a new post frame building, I might have some thoughts and ideas you have not yet considered and no one else has suggested. Once I have gathered information from you during a conversation, I will often ask if you mind if I design your building if it was my own building. My mission in this – to come up with a best possible design solution for you, balancing investment and budget.I have saved clients hundreds of thousands of dollars on their new pole buildings by tweaking their initial design, from changing bay spacings to type of doors or windows. Why would I do this? My goal is to design a building which solves the problem. In other words, a building which is functional, is pleasing to the customer, and fits their budget.  
Welcome to the world of Mike the Pole Barn Guru!