Splashwood™
Reader MIKE in ORLANDO writes:
"Dear Pole Barn Guru,
I bought a 38×42 Pole Barn kit from a reputable supplier. The posts are 8″ x 8″ – but do not have the AWPA markings that you describe in your Blog. These posts have a tag stapled to the end that says "SPLASHWOOD, Saltwater Splash Use Only, .80 PCF, Chromated Copper Arsenate (CCA-C), Southern Wood Preserving, Inc,." and a paragraph of cautions and Consumer Information. I tried to look up this info to see if these posts are AWPA UC4B equivalent but could not find any info on-line.
Are these post acceptable for my Pole Barn construction?
Thanks."
Mike the Pole Barn Guru writes:
Splashwood™ happens to be a registered trademark and brand of Great Southern Wood Preserving, Inc., and was filed December 30, 2004. Great Southern Wood Preserving, Inc., is based in Abbeville, Alabama and was founded in 1970. It has 15 plants located in Alabama, Arkansas, Florida, Georgia, Mississippi, Missouri, Louisiana, Maryland, Virginia, Pennsylvania and Texas with annual revenue of a billion U.S. Dollars.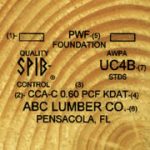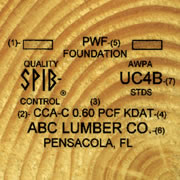 Pressure-treated wood is treated to various retention levels which are intended to protect the wood for particular applications. Retention levels indicate the amount of preservative retained in the wood in a specific assay zone. In North America, retention is expressed in pounds per cubic foot (pcf).
Retention levels or treating quality procedures are marked on pressure treated wood. The AWPA (American Wood-Preservers' Association) outlines retention levels required for various applications.
Retention varies with depth in the wood, so preservative penetration also affects wood longevity. In species with large amounts of sapwood, such as southern and red pine, the preservative must penetrate 2.5 inches or 85% of the sapwood to meet standards.  In western species which are predominately heartwood, the wood is incised to ensure a treated shell, and any cut surfaces should be field-treated with a preservative containing at least 2% copper (read more about cut ends of treated lumber here: https://www.hansenpolebuildings.com/2014/09/pressure-treated-lumber-2/).
To meet the Code required standard of UC-4B for structural timbers, takes a retention of 0.60 pcf with CCA. The pressure treatment of your columns exceeds the minimum requirements.