The Use and Occupancy Classification Challenge Part I
Every building, regardless of how it is constructed has a Use and Occupancy Classification (sometimes more than one).
In order to best enjoy this, you can play along at home by opening this free access link to the International Building Code (ICC): https://codes.iccsafe.org/public/document/IBC2015
Who Should Read This?
Post frame building contractors, building designers as well as anyone considering a building which will have mixed occupancies, or a single occupancy other than R or U should read through these IBC Code chapters so as to be able to make informed decisions as to the planning of their building. In the event your proposed building will be for any commercial use, it is best to get involved early in a pre-application conference (read more here: https://www.hansenpolebuildings.com/2013/01/pre-application-conference/).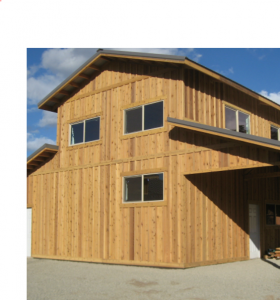 Let's play using an actual real life scenario.
Imagine this – a monitor style building which has a center portion 20 feet wide with a 20 foot eave height. The wings (enclosed sheds) off each side are 10 feet wide and slope from 13'4" to 10 feet (4/12 roof slope). The entire building is 112 feet in length. In the center section is a second floor which is 20 feet by 50 feet.
The square footage is 4480 on the main level and 1000 square feet on the second floor.
The building will initially be used as a barn, with the eventual intention of it being a wedding venue on the main level and having bedrooms on the second floor.
For those following along, go to Chapter 3 of the IBC.
Looking at the eventual use of the building as a wedding venue, it could be Assembly Group A:
"303.1 Assembly Group A.
Assembly Group A occupancy includes, among others, the use of a building or structure, or a portion thereof, for the gathering of persons for purposes such as civic, social or religious functions, recreation, food or drink consumption or awaiting transportation."
In fact, i probably is a best fit as Assembly Group A-3.
Of course the building will also eventually have bedrooms. If the building was not a post frame building, and was all residential, it could fall under the auspices of the International Residential Code (IRC) which is a prescriptive code for stick framed housing.
"310.5 Residential Group R-3.
Residential Group R-3 occupancies where the occupants are primarily permanent in nature and not classified as Group R-1, R-2, R-4 or I, including:
Buildings that do not contain more than two dwelling units"
Of course there is also the initial use of the building, as a barn.
"UTILITY AND MISCELLANEOUS GROUP U
312.1 General.
Buildings and structures of an accessory character and miscellaneous structures not classified in any specific occupancy shall be constructed, equipped and maintained to conform to the requirements of this code commensurate with the fire and life hazard incidental to their occupancy. Group U shall include, but not be limited to, the following:
Agricultural buildings
Barns"
SECTION 420 of the IBC applies to R-3
In cases where you have mixed occupancy separation walls are required.
420.2 Separation walls.
Walls separating dwelling units in the same building, walls separating sleeping units in the same building and walls separating dwelling or sleeping units from other occupancies contiguous to them in the same building shall be constructed as fire partitions in accordance with Section 708.
420.3 Horizontal separation.
Floor assemblies separating dwelling units in the same buildings, floor assemblies separating sleeping units in the same building and floor assemblies separating dwelling or sleeping units from other occupancies contiguous to them in the same building shall be constructed as horizontal assemblies in accordance with Section 711.
[F] 420.5 Automatic sprinkler system.
Group R occupancies shall be equipped throughout with an automatic sprinkler system in accordance with Section 903.2.8.
Stay tuned tomorrow for Part II of Use and Occupancy.