Spray Foam and a Post Frame Cabin
Hansen Pole Buildings' Designer Rick Carr is a delight to work with. Other than his fondness for the Green Bay Packers, he is a great guy! Rick not only subscribes to my daily blogs, he reads them. A recent article peaked Rick's inquisitive mind (view the culprit here: https://www.hansenpolebuildings.com/2017/11/properly-insulate-roof-purlins/). This article prompted Rick to write:
"A question on this, if you anticipate needing to replace the steel, in say 40 years, would you put house wrap over the purlins, then the steel, then closed cell foam from underneath.  The idea being that you can't remove the steel if the closed cell foam is applied directly to the to the steel from underneath?
If I ever find land for a fishing cabin, this is what I would consider. 
A 28×40 cabin with partial open ceiling and half ceiling load trusses with joists.
Then, how would you build and insulate the interior wall from the ceiling to the underside of the purlins, that would be at a truss?"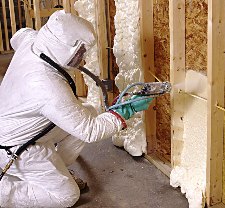 Mike the Pole Barn Guru writes:
I'd start by investing in the best steel money can buy – I'd go with a Kynar paint finish (https://www.hansenpolebuildings.com/2014/05/kynar/) over a Galvalume substrate, this combination will give the greatest possible longevity for both paint system and the steel itself.

From my research, it appears astute applicators of closed cell spray foam insulation know which adhesives to incorporate in their mixtures so as the foam will stick to the building wrap.

For those interior walls which will be part of the abbreviated second floor, Once the gypsum wallboard is installed on the "living" side, spray foam can be applied from the attic side of the sheetrock. For the wall between your vaulted ceiling and the bonus room area, once drywall is on one side the same spray process can be followed.

My revelation of the day – I've become a convert to closed cell spray foam insulation!