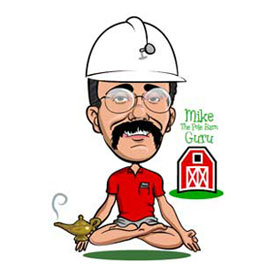 Reader JUSTIN in MONROE writes: "Hello. Hopefully an easily answered question? I have built a 52×30 post frame, steel siding and roof. Walls have Tyvek between steel and girts. Roof is steel directly on purlins with no barrier of any kind. It has a concrete slab and I plan to periodically heat it during winter months. I'd like to insulate but not sure of best method with my situation and climate. I plan to use R-19 for walls and possibly ceiling. Or blow in for ceiling. Also I have 50% soffit ventilation with 18″ overhang as well as 40 ft of ridge vent. Should I use poly plastic on interior of walls and ceiling? I'm concerned I will create a moisture problem. I'm open to doing things whichever way is best. Things are always easier and cheaper to do it correctly the first time. Any advice would be greatly appreciated. Thanks"
Dear Justin,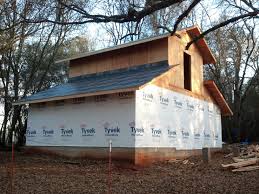 I agree things are always best when done correctly the first time around. While it is not always less of an investment, when the long term problems arise and things have to be corrected, it makes it nearly not as fun and cheap becomes expensive. Usually in a quick hurry.
If the roof trusses are not designed for at least a five pounds per square foot bottom chord dead load, you are sunk on adding a ceiling without an engineered truss repair. This would be the place to start, as it will dictate the solution.
I will approach the building as if it is my own and from where it is now.
On the floor – I am hoping you have a vapor barrier beneath the concrete slab. If not, use a high quality sealer on top of the floor.
A penetrating concrete floor sealer is likely the best bet to protect and maintain a concrete floor. These concrete floor sealers penetrate deep into the concrete's pores coming into contact with the alkali and calcium ions, forming a gel.
This gel expands filling the pores and hairline cracks inside the concrete, turning the concrete into a solid mass. This process will prevent moisture and vapor migration up through the concrete floor, as well as down into it.
Look for a penetrating concrete floor sealer which is water based and says silicate penetrating solution on the specifications. These sealers can be applied with a pump up sprayer.
On the Walls-you did good with the Tyvek. Kudos! If your building has girts flat on the outside of the columns, you can add another set to the inside of the columns. If you have 6×6 columns, your post frame building will now have an 8.5 inches thick insulation cavity. I would use BIBs (read about BIBs here: https://www.hansenpolebuildings.com/2011/11/bibs/) for my wall insulation, and would have a deep enough cavity to get around R-35. There does need to be a vapor barrier on the inside (heated) side of the wall, under the gypsum wallboard.
Roof– the underside of the roof steel needs to be isolated from any warm moist air which would enter the attic. Use closed cell spray foam directly sprayed directly onto the underside of the roof steel. Assuming your building's roof trusses are strong enough to support a ceiling, blown in insulation is going to be your most economical. Hopefully you (or your builder) had the foresight to order roof trusses with a raised heel so the insulation will remain full thickness from wall to wall. If not you may want to have closed cell spray foam insulation on the "cold" side of the ceiling in the area with a couple of feet from the sidewalls. Make sure to allow a provision for air in the overhangs to not be blocked from venting the attic.
Do not put a vapor barrier between the trusses and the ceiling. You want the warm moist air inside your building to be able to rise into the attic and be vented out through the ridge. And if you are going to insulate your ceiling, R-19 is really not near enough. At a minimum I'd think about R-38 or 45 blown in.
Thank you for allowing me to share some insight into insulation.
Mike the Pole Barn Guru