DEAR POLE BARN GURU: I have home plans for a stick build but, am interested in the savings of a Pole Home. I was wondering if you can help me incorporate our design into a pole design. Thanks ROGER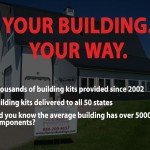 DEAR ROGER: In a word – YES. Keep in mind, what we do is the structural portion of your building – the exterior shell, any raised wood floors (like over a crawl space) or second and third stories. Any non-load bearing interior walls will be up to you. You will find tremendous savings in the foundation, as well as from the ability to construct it yourself.
DEAR POLE BARN GURU: Can I specify a different size other than what you show on your pricing page? For example, if I wanted a 20' X 30' could I do that?  BILL
DEAR BILL: We can provide buildings of any possible dimensions of width, length, height and roof slope. The beauty of the Hansen Pole Buildings' Instant Pricing™ system is it calculates exactly the materials needed for any size post frame building – you do not have to pay a premium to get dimensions other than what many people consider to be 'standard'.
DEAR POLE BARN GURU: Building area has a hill on one side. The man doing my dirt work has leveled the site and is now going to add 2 foot of gravel to get the site up higher and away from the hill and 3feet wider all the way around the building foot print.. Also by raising the site he will be able to provide a trench to move water away from building The site is mostly heavy clay soil .so my question is will I need to get longer poles to get down below frost line of the original grade or from the building grade he created.
Thanks LARRY in SAVANNAH
DEAR LARRY: Provided your excavator is doing proper compaction of the materials he is bringing in, the depth and diameter of the building columns should be able to remain the same as they were indicated on your original engineer sealed plans for the building. Here is detailed information on achieving adequate compaction: https://www.hansenpolebuildings.com/2011/11/soil-compaction-how-to/. If unsure at all, it would not hurt to order columns two feet longer than normal and auger the holes deeper than shown on your engineered plans by the thickness of the fill. In my humble opinion, your foundation is what everything is built upon, and to not err on the side of caution is leaving the support for your brand new building up to chance.