DEAR POLE BARN GURU: Could you give me a cost of installation of spray foam insulation for an indoor horse arena that is 65 by 125 ft in size. 
Wanting to insulate under roof area only.  We are a faith based non profit 501 c 3. JACK in SAVANNAH
DEAR JACK: Thank you very much for your interest. Hansen Pole Buildings is neither a contractor nor an installer. For closed cell spray foam (which is what you want to have), you should expect to pay about a dollar, per square foot, per inch of thickness.

DEAR POLE BARN GURU: I found your web site and wanted to reach out to you. 
I provide free safety consultation services to small employers in Ohio.  I have a small framer who does Pole Barns and he was cited by OSHA.  He needs a written Safety and Health program that addresses all of the applicable topics to this trade (Fall protection, Electrical and Ladder safety, PPE, tool safety, etc.)  I have never written a program for a contractor who does this type of work and was wondering if you could suggest any other links or resources that could help me with putting one together for me.  He is Amish and has no computer resources so I feel I need to do what I can to help.  I especially need some guidance with regards to Fall protection during the building process (tie off points, what can be used as an anchor, truss erection, etc.).  Please provide what you can to me.
Thanks for your help. PAULA in PICKERINGTON
DEAR PAULA: I'd start with www.nfba.org, they are the trade association for the post frame (pole) building industry and should be able to either provide what you are looking for, or get you pointed in the correct direction.
DEAR POLE BARN GURU: Using foil faced polyiso in pole barn do I put shiny Side out or in and can I use it on celling or can I put it on purlins under roof build is already built. JERRY in Onawa
DEAR JERRY: The determination for which side goes in or out will be based upon the goal you are trying to achieve. If you want to reduce heat gain in the summer, then the shiny (aluminum) side will go out, if you are heating the space and want to reflect the heat back into the building, then shiny side in.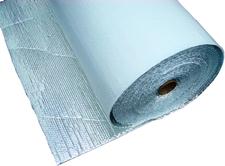 Some thoughts – whether installed under the purlins or as a ceiling across the roof truss bottom chords, you have created a dead air space above the insulation boards which must be ventilated from eave to ridge or at the gables in order to prevent condensation, mold and mildew issues. In order to function properly, all joints and seams must be sealed tightly.
Before installing any product which will be supported by trusses, confirm they have the load carrying capacity to support it.
Many Building Departments require any foam sheathing to be fire separated from areas where humans will occupy. This could add to your expense.