Another great question from a reader!
DEAR POLE BARN GURU: Hello,
I bought my house from you a few years ago and know that you all have a very good engineering group. I was wanting to see if they could come up with a plan to retrofit an existing pole barn for wind uplift.
The existing pole barn is 28'x36′ with a lean to on the right side 12'x36′ with 2′ overhangs on all sides. It has a metal roof and ceiling in the whole building and one metal enclosed room that is 8′ off the ground. It is 14'x24′ with a 12'x14 desk connected to the room on the left side, the rest of the build is open. It is constructed with 6″x6″ post 12′ spacing. They used 16 post total 4 rows of 4 post.
The trusses are 4/12 pitch. After asking owner about how this was constructed he stated that the post are 38″ to 40″ in the ground in 18" holes. They are setting on top of concrete cookies with compacted dirt around them. He did not believe that they put uplift cleats on the post. My wind exposure is B and Snow Load is 30 PS. This is a little background information let me know if you need to know anything else to answer my question.
So here is my question.  Is there any way I can retrofit this build to give better uplift protection?  I like the open look and would like to keep it open if possible. But I do have access to a bobcat if I need to do any digging. Please let me know what your thoughts are to fix this. I'm guess I should have ordered from you in the first place. This was not the best way to save a buck.
Thanks. MARK in BROOKSVILLE
DEAR MARK: Thank you for your kind words. There are several choices of things to do to increase resistance to uplift: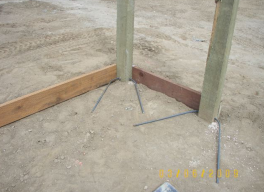 1. Easiest – if the building does not currently have a concrete slab on grade, five foot long rebar hairpins can be placed through each column at mid-thickness to be poured minimum four inch thick concrete slab. For more reading about hairpins: https://www.hansenpolebuildings.com/2016/10/rebar-hairpins/
2. Not as easy, but less digging – excavate top 12-18″ around each column and backfill with concrete. This is known as a "top collar". It does reduce uplift, however it adds the risk of creating possible frost heave conditions if the soil beneath the building is not well compacted granular soil. For added information on frost heave protection: https://www.hansenpolebuildings.com/2011/10/preventing_frost_heaves_in_pole_building_construction/
3. Lots of digging – excavate down to the top of the cookie (which is probably not adequate in diameter to prevent settling of the posts) and either pour a bottom collar (8-10 inch depth of concrete around the base of the column) or entirely fill around the column with concrete. Either of these can be accomplished by using sonotubes. Cut them lengthwise so they can be placed around the columns.
Read about the problems with concrete cookies here: https://www.hansenpolebuildings.com/2012/08/hurl-yourconcrete-cookies/ and why sonotubes work here: https://www.hansenpolebuildings.com/2013/11/sonotube/
Sounds like you have found out the hard way how saving a few dollars can cost a lot of dollars.