DEAR POLE BARN GURU: I am building a pole barn 50 foot clear span wide, and 70 foot long, 16 foot to the eve. I am using 4×4 metal uprights on 20 foot spans, red iron purlins and stringers, and 4×4 metal welded all around the top. I am using conventional wood trusses engineered for my area on four foot centers. My question: Are the 4×4 square tubing uprights on 20 foot centers, with welded 4×4 square tubing around the top for the top plate heavy enough for this large of a building? Thanks, FLOYD in KIM
DEAR FLOYD: You asked for my honest opinion – here it is. I wouldn't stand under or near your building as proposed in a wind or snow storm. With a 30 psf (pounds per square foot) roof snow load and a 100 mph design wind speed under the 2009 IBC (International Building Code) you are talking about some significant loads to be dealt with.
My best recommendation is to spend the money to have your proposed design reviewed by a RDP (registered design professional – engineer or architect) who can make the necessary revisions so you can end up with a building which will actually stand up under the imposed loads.
DEAR POLE BARN GURU: Read the article on crawl space verses slab. Is there any pictorial drawing showing a pole barn construction with a crawl space so I can better understand the pole installation? I assume it's the same as ground level for a slab, but only 4" lower for the crawl space. Still would like to visually see drawing to fully understand. It is my plan to do most of the construction, but one thing I won't do is concrete work and the price of concrete installed is expensive. At least a wood sub-floor I can handle, not to mention it makes it easier to run electrical, ducting and piping. DOUG in KIOWA
DEAR DOUG: I am with you when it comes to concrete work – I just won't go there if I can at all help it!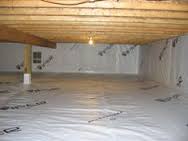 Crawl spaces for post frame buildings are most normally elevated above grade. The IBC (International Building Code) requires any not pressure preservative treated beams in a crawl space to be at least 12 inches above the underlying soil, and joists to be 18 inches above.
Think of the raised wood floor being created as a "loft" floor, with the beams attached to the columns and joists running between the beams. The difference being this loft floor is usually going to be somewhere 18 to 36 inches above grade (most people prefer their crawl spaces to be tall enough to actually allow easy access for running utilities).
DEAR POLE BARN GURU: How much for 12 x trusses that are 24′ with 4/12 or 6/12 pitch? Thank you DUNCAN in JOHNSTOWN
DEAR DUNCAN: Although we are not manufacturers or resellers of just trusses, I can give you some guidance as to information which will be needed in order for you to get a correct price.
The easiest thing will be to get a copy of your engineered building plans into the hands of the local truss providers. The plans will have the information required to give you an accurate price for the trusses, as well as insuring they will be designed to meet the loading conditions necessary for your particular building, at your site.
These items will include jobsite address, Roof Exposure Factor (to the wind, also known as Ce), the ground snow load (Pg), the sloped roof factor (Cs), the thermal factor (Ct) as well as the Importance factor (I). The type of roof materials being used as well as if there is a ceiling or not will also play into the end truss design. If your local Building Department has a minimum roof snow load requirement, this needs to be passed along as well.
With all of the above in hand, the truss designer can plug the variables into the computer program which does truss design and derive a price for your truss package.
The above is merely a broad overview, to delve deeper, it would behoove you to read the article I penned for Structural Building Components magazine: https://www.hansenpolebuildings.com/mike-the-pole-barn-guru-profile/it-isnt-your-grandpas-barn/