This was a question asked of Hansen Pole Buildings' Managing Partner Eric Graff, by one of our Building Designers, Elijah.
To begin with, let's examine the 2012 International Building Code requirements for the Risk Category of the building.
1604.5 Risk category. 
Each building and structure shall be assigned a risk category in accordance with Table 1604.5. Where a referenced standard specifies an occupancy category, the risk category shall not be taken as lower than the occupancy category specified therein.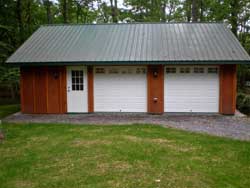 Most post frame buildings are Risk Category I, as they pose little threat to human life in the event of a failure. These buildings are designed so as the minimum Code Requirements for loading have a probability of being exceeded once in 25 years (a 4% annual probability).
Risk Category II would encompass most homes and commercial buildings with a probability of minimum loadings being exceeded once in 50 years (a 2% annual probability).
Risk Category III and IV are buildings with higher occupancy loads, are defined as essential facilities or ones which would create a greater hazard to human life in the event of a failure. These are designed to a once in 100 year occurrence or a 1% annual probability.
Post frame buildings can fall into any of these categories, so therefore should have basic structural designs and requirements (other than differentiation of applied loads) which are the same for any category.
The perceived 'weak link' in post frame construction would be pressure preservative treated columns embedded into the ground. The Code has specific requirements for treated wood (https://www.hansenpolebuildings.com/2012/10/pressure-treated-posts-2/), which (when followed) should provide for a structural system which will be good for a minimum of 100 years, as it would need to make the Risk Category III and IV requirements.
This does NOT mean there will be no maintenance needed to insure a lengthy lifespan.
Roofing and siding products (especially those which are not factory pre-painted steel over galvalume or galvanization) have fairly limited lifespans and will need to be replaced, resurfaced or repainted on a regular basis.
Given the current technologies available for steel roofing and siding paint systems, it is very possible the products which are installed today will yet be serviceable 100 years from now. Granted there is probably a high degree of color fade as well as some probability of rust.
When I inherited my home outside of Spokane, Washington in 1990, the existing cedar post frame garage was still serviceable after more than 50 years of regular use – yes, the untreated columns were showing some signs of decay, but otherwise if we would have owned the two Model A Fords the garage was designed for, it still would have been a nice two car garage.
The definitive answer to Elijah's question – in all probability any given pole barn building will outlive its intended useful purpose.