I will begin to extend my condolences to those who lost loved ones in the recent earthquake in Ecuador. As my long time readers may recall, our youngest daughter Allison spent her sophomore year of high school as a Rotary Youth Exchange student in Portoviejo, Manabi, Ecuador. She knew some of those who tragically perished.
The 2016 Ecuador earthquake occurred on April 16 at 18:58 ECT with a moment magnitude of 7.8 and a maximum Mercalli intensity of VIII (Severe). The very large thrust earthquake was centered approximately 17 miles from the towns of Muisne and Pedernales in a sparsely populated part of the country. Manta's central commercial shopping district, Tarqui, was completely destroyed. Widespread damage was caused across Manabi province, with structures hundreds of kilometers from the epicenter collapsing. At least 654 people were killed and 16,600 people injured.
Most of the death and destruction was avoidable.
After his first visits to the affected areas, Ecuadorian President Rafael Correa admitted many buildings had collapsed due to poor construction. He recalled following earlier earthquakes in Chile and Haiti, the country had implemented standards of much stronger construction, and adoption of the Ecuadorian Construction Standard (or NEC).
The NEC happens to be the severely outdated 1977 Uniform Building Code from the United States, which has been translated into Spanish!
Structural engineer Fabian Carrasco acknowledged the codes are often not met as building permits depend upon each municipality (much as is done in the United States). Some jurisdictions require engineering for the plans, other do not, however there is no supervision of actual jobsite construction.
Engineer Enrique Garcia cited lack of quality control of materials and the absence of adequate seismic designs.
Most construction in Ecuador is concrete reinforced with steel. Along the coast, there is too much temptation to use ocean beach sand in the concrete mix. The salt in the sand deteriorates both the concrete and any rebar in it.
The heavier a structure, the more it is effected by seismic forces. In Bahia many of the concrete buildings suffered extreme structural damage. The exception – an 80 to 100 year old house which was about to be declared a "structural asset", basically a historic building.
And why did it remain unaffected by the tremors? It is built of wood and cane, both of which are lightweight and flexible!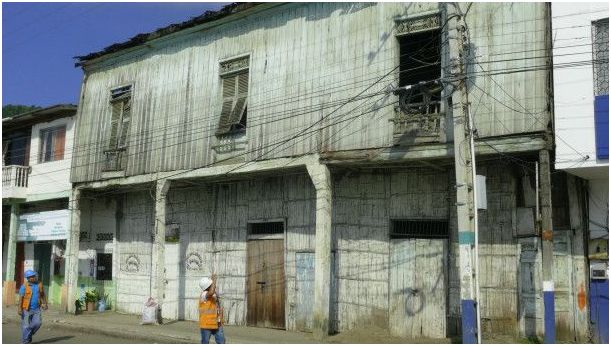 Post frame (pole) building construction utilizes similar concepts to the lightweight structures which survived the tragic Ecuadorian earthquake. As modern Code conforming structures, engineered pole buildings can be designed to resist even the strongest earthquakes – or, at worst case, allow the occupants to escape with their lives.
Hopefully Ecuadorian authorities will look into the practical applications of post frame construction as they begin to rebuild.