Sometime in the not too distant past, residential home builders figured out a way to reduce the price point of their new homes, by shrinking the width of the "two car garages" and using 14 foot wide overhead doors.
However, "Houston, we have a problem", as most of us drive vehicles down the road which are too wide to fit side-by-side through a 14 foot width door.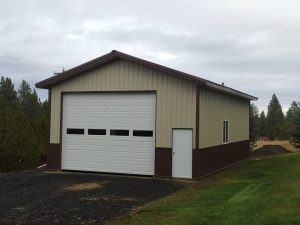 Over the decades I have seen lots and lots of requests for 14 foot width doors in both overhead section and sliding doors. I remind myself, most people are dimensionally challenged. Without taking out a tape measure and physically measuring our vehicles, we have only an approximate idea of how large (width, length and height) they actually are.
I've seen requests come in for four car garages which are 24 foot by 24 foot. Since most people do not own or drive four Smart Cars, my educated guess is they don't know how much space their vehicles actually chew up.
In the nearly 16 years my bride and I have been married, we've had a GMC pickup, a Chevy Tahoe and two Chevrolet Avalanches. Not a single one of them would fit through an eight foot wide overhead door (it takes caution getting into a nine foot width without losing mirrors).  Try to get two of them side-by-side through even a 16 foot wide door? Not happening.
How about getting big things through doors?
Well the Federal Highway system limits vehicle widths to 102 inches (8'6") and mirrors can extend as far out as 12 inches on each side for 10'6". Totally maxed out for width would leave 18 inches to spare on a 12 foot wide door.
Most of us do not own Caterpillar D9 bulldozers and certainly wouldn't go for a crusie in one as they weigh in at 54 tons. If you did, you would know it isn't going to fit through a 14 foot wide door either, as the blade measures 14'7" in width.
So, what are the best options?
What the competition didn't tell you is 16 and 14 foot width doors are nearly identical in price. You ask for 14 foot, they will sell you 14 foot, without even a discussion as to what is going through the door.
They assume you are "the expert", when in reality they should be the experts and providing you with appropriate advice.
If you have a Recreational Vehicle, trailered boat or semi chances are good 12 feet of width is going to be everything you need it to be.
In cases where the approach to the door opening is at an angle – might as well go to a 16 foot width door (or 18 if two vehicles are to be parked side-by-side).