Now 94 years old, Canadian Monty Hall was such a star as the host of television's Let's Make a Deal he has been enshrined with a star on the Hollywood Walk of Fame.
I recently saw a deal Monty would have gotten a kick out of us a booby prize behind door number three.
For only $3200 you too could own this lovely 40'x60' "pole building" now located in Hollister, California….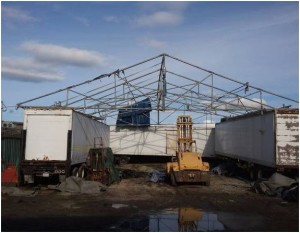 "The structure actually originally cost a golf course $60,000 then resold and since then the tent fabric worn out. You can have a custom-made tent cover made for it for around 3 grand, I go to home depot anthro blue tarps over it . Or use any roofing material you prefer. I'm willing to deliver for a fee and also set up for a fee something fair and equitable .
Note these pictures were taken as I disassembled it my partner used it for storage covering of his diesel pusher motor home.
Note these pictures were taken outside disassembled it does have all the hardware to put it together I kept track of it painted it for reassembly so there's markings for what pieces go but there's a lot of uniform universal parts it also has I believe 12 foot walls but you can put height of walls to your specifications quite easily just use a Bell reducer and put a larger pipe for riser extensions."
I have to admit it took me several hours to recover from laughing uncontrollably after reading this, but I suppose one man's garbage could be another man's treasure.
To begin with, I surely wish I had gotten to the original purchaser first – as they paid numerous times more for this "structure" than what a top of the line post frame (pole) building would have been.
Don't get me wrong, I love The Home Depot®, but a "building" (I use the term very loosely) being sold with the idea of it being covered with blue tarps is just not my personal ideal.
In the event you do happen to become the new owner of this fabulous deal, I would suggest not standing under or near it in the event of say….the wind blowing, a rain or snow storm, or someone leaning against it.
Just pick Door #1.