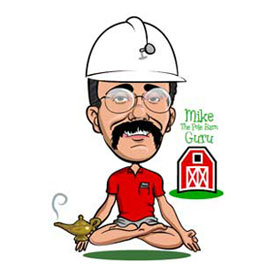 Welcome to Ask the Pole Barn Guru – where you can ask questions about building topics, with answers posted on Mondays.  With many questions to answer, please be patient to watch for yours to come up on a future Monday segment.  If you want a quick answer, please be sure to answer with a "reply-able" email address.
Email all questions to: PoleBarnGuru@HansenPoleBuildings.com
DEAR POLE BARN GURU: I'm in the process of designing a 40x96x10 pole barn as a home and I have a few questions that would be great to have answered. I live in southern Louisiana, read lots of humidity.
I'd like to insulate with closed cell spray foam but my question is would it be worth while to put reflective insulation on the roof or just use cellulose in the attic space.
If I were to spray a 1″ layer of foam on the underside of the metal how will I need to vent the attic space. STEVEN IN LOUISIANA
DEAR STEVEN: I will assume you are going to be creating a dead attic space, rather than attaching gypsum drywall to the underside of the roof purlins.
You'll need to control condensation on the underside of the roof steel. This can be done by either installing reflective insulation between the roof purlins and the roof steel, or by use of closed cell spray foam insulation on the underside of the steel. Another option would be Condenstop (https://www.hansenpolebuildings.com/2014/07/condenstop/).
You can blow in either fiberglass or cellulose insulation above your ceiling drywall. Do not place any sort of vapor barrier between this drywall and the ceiling framing.
As for venting the attic – best method will be enclosed sidewall overhangs with vented soffits, in combination with ridge ventilation. https://www.hansenpolebuildings.com/2014/12/ridge-vent/
DEAR POLE BARN GURU: So I realize buying a kit to build a home, that the kit is just the shell.  Do you have floor plans/ designs for the inside with quotes? JOEL IN MONTESANO
DEAR JOEL: The beautiful part of pole (post frame) buildings is, they typically feature clearspan trusses, which allow non-load bearing walls to be placed anywhere within the building (or even moved at a later date).  Every family has different needs and uses for space, this allows for total customization of wall and room locations. The best thing to do is to look at lots of houses (a tour of open houses on a weekend is a great way), take along your tape measures and a note pad. Determine which room sizes will best meet your needs, based upon your experience. Don't be shy to err on the high side for area, as so much of the cost of a building is just deciding to build one. Once the decision is made, go as large as is economically feasible and will fit within the available space. With approximate sizes determined, look at how you want each room to relate to each other. Parents of younger children usually plan for bedrooms to all be close together, older children – put them at the opposite end of the house from the master suite (just an example). Once the puzzle pieces are put together, an expert Hansen Pole Buildings' Designer can assist you at fitting into the outside perimeter which will best meet your needs and pocketbook.
DEAR POLE BARN GURU: Hi – we are located in zip 18330. I came across your website and was wondering if you provide kits to a custom size. Specifically I need a length of 34 ft and width of only 18 ft, with a 12'w by 14'h garage door.  The walls would need to be close to 16 feet high as well.
Please let me know if custom kits are something you offer. Thank you! JOE IN LITTLE MEADOWS
DEAR JOE:  We absolutely provide custom kits to any size – even down to inches, without you being penalized just because you don't have "standard" sizes. One of the Hansen Pole Buildings' Designers will be contacting you shortly to assist with your planning.