I'm not nearly as entertaining as Adam Savage and Jamie Hyneman of the Discovery Channel's MythBusters, but I do my part to entertain and enlighten those who are considering a new building.
Somehow it seems the biggest myths are those propagated by the all steel building industry, where I have stepped up to set the facts straight in the past.
Here are some busted myths from the past:
https://www.hansenpolebuildings.com/2012/03/wood-only-pole-buildings/
https://www.hansenpolebuildings.com/2012/03/all-steel-buildings-3/
I'd consider thanking Eric Beavers of Armstrong Steel® for his copyrighted article, "Debunking Three Myths – The Whole Darn Pole Barn Truth" (read it for yourself here: https://armstrongsteel.com/network/future-first-time-builders/whole-darn-pole-barn-truth/#disqus_thread), however he may have created more myths than he debunked.
Please read on.
BTW (By The Way) – I have absolutely no issues with a properly designed all steel building, if used as it should be – in the few cases where they are the most practical design solution.
From "Myth #1"
"Comparing pole barns to metal buildings is like comparing apples to oranges. In construction, cheaper is not always better. In fact, cheaper is usually more expensive in the long run. While a pole barn will require less initial investment, this kind of building requires maintenance. The primary material that a pole barn is constructed of – wood – is naturally inclined to decay. This means that over time, you will be spending valuable time and money on keeping your building standing."
A huge chasm divides "cheaper" from "better value". I'm at a loss as to where all of this maintenance is coming into play.
Post frame construction utilizes pressure preservative treated lumber in all critical potential decay areas. Untreated wood could decay, if it was left improperly exposed to the elements. In a Hansen Pole Building, no "raw" (untreated) wood is left exposed to the weather.
"Steel buildings will require a slightly greater initial investment. A really well made steel building might require an even greater initial investment."
Not going to argue this point. Post frame (pole) buildings come out a winner.
"Paint can come with a 40 year warranty and isn't prone to fading or changing shades because of the sunshine or the rain."
Both all steel and post frame buildings generally utilize steel roofing and siding, with warranties up to lifetime available – so this sales point, isn't even a point.
The argument presented for all steel and against pole buildings in this myth, has been unsubstantiated – it is entirely subjective, without any clear evidence to back it up. Myth blown up!
From "Myth #2"
"Everyone knows that when you've got the space, you use the space. Even if you build your pole barn on a small plot of land and it takes up a relatively small area, you may have at least one pole in the middle – and more as the interior span increases. 
For smaller spans, less than 40 feet, pole barns will not typically require an interior support column. Regardless of the span, however, pole barns require a truss with a flat cord along the bottom of the ceiling supports. This is because wooden support beams do not transfer roof and wall loads in the same fashion as a steel haunch connection. A Steel building does not require a truss and cord type system and boast a very liberal and space conscious "A" Frame type rafter."
A famous quote (penned by me), "Your possessions will increase to fill all available space plus 10%". Sure seems to work as such!
Having spent years in the prefabricated metal connector plated truss industry, wood trusses can cost effectively be used to clearspan even 100 feet. Clearspan = no interior poles. Nada. Nyet. Zero.
Now if you truly need to clearspan over 100 feet, all steel is most probably the best design solution. However, how many of you actually need a clearspan this wide? The reality, not very many. And those wide clearspans come at a premium price!
How about we talk about all of this extra vertical space? On a 40 foot width building, with a 1/12 roof slope, all of 20 inches gets gained in the center. Make the pole building two feet taller and it will still be a better value and will provide the same clear height from wall-to-wall. For those who want the interior vaulted effect, scissor trusses (with a sloped bottom chord rising to an interior peak) can be utilized.
Oh, the difference in how loads are transferred – because the all steel building is a rigid frame, it is the nature of the support columns to want to "kick out" at the bottom. The solution is to have significantly large concrete piers, or to run under floor cables from one side of the building to the other. Either of these is going to add to the cost beyond the out the door price quoted by the steel building provider.
"Once a pole barn's span becomes larger than 40' or so truss size increases and consequently, so do materials. This increases cost. One way around this is to add interior columns, which is why columns are so prevalent on large span pole barns."
Somehow, all of these interior columns just are not seen in most large span pole barns. Depending, of course, upon snow and wind loading conditions the investment per square foot into a post frame building decreases as the area of the building increases.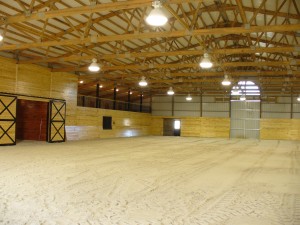 "When spans begin to exceed 40′, steel buildings become extremely cost effective in comparison to wooden pole barns."
Send any fully detailed competitor's quote – pole barn or all steel to Hansen Pole Buildings. In the event the other quote can even begin to match our features, we will be the best price, every time.
"The way steel buildings are engineered to transfer loads (weight and pressure) to the sides and down to the ground means that the roofs are supported by the walls, not intrusive beams which run through the interior."
Interesting – just like post frame buildings, the loads are transferred from the roof, through the wall columns and sheathing, to the ground.
"Imagine your workshop or small business expansion – even your livestock barn or storage – with absolutely no interior interruptions."
And because you invested in a post frame building, it was less expensive!
"The whole darn pole barn, truth is that wood can't support its weight the way steel can, and it can't be engineered nearly as efficiently."
The facts just do not appear to support this claim (actually no real numbers on weight of building by dimension are presented). From experience I know a 7200 square foot post frame building, with 16 foot eaves, fully enclosed with doors has materials weighing in at roughly seven pounds per square foot! Am not sure all of those heavy steel beams, girts and purlins can make the same claim.
"Frankly, wood should be used for furniture not construction. It's perfect for a nice desk, less perfect for a workshop."
Convince the builders of hundreds of thousands of homes and apartment units every year in the United States of this one. Wood is the structural building material of choice. Want to climate control and finish the inside of your workshop? Better hope it is a pole building, because the all steel building is not going to be end user friendly in this regard.

From "Myth #3"
"While a brand new pole barn is going to look really nice on anyone's property, over time, the headache of maintaining this building so it doesn't quickly become a neighborhood eye-sore becomes a problem."
What maintenance? If both buildings are steel clad, the only moving parts to maintain are the doors. There is no reason for a pole barn to not remain an attractive and functional building for generations.
"Another thing to consider is in most cases, banks, lenders, and appraisers don't consider a pole barn a 'permanent structure' because of the lack of a foundation and the fact that the walls don't need to be secured to the ground with concrete or other permanent methods. Additionally, pole barns aren't typically 'engineered' to meet structural requirements, they are much like an agricultural loafing shed or just a plain large shed. Pre-engineered metal buildings require proper foundations, which means these buildings are permanent structures."
Strange, the IBC (International Building Code) recognizes post frame construction as being both Code Conforming and permanent. Those pressure preservative treated columns embedded in concrete are the same level of pressure treating which is used for foundations in all-weather wood foundation homes. As to engineering, our state of the art proprietary post frame building design program runs the calculations for every component and fastener in every building – nothing is left to guesswork of chance.
Those proper foundations for pre-engineered metal buildings – you (the building owner) are going to have to hire an outside engineer to design them, as the steel building manufacturer does not include them!
To borrow and amend a phrase, before you decide a steel building is exactly what you were looking for, you should really do some investigation into the benefits of a post frame building!