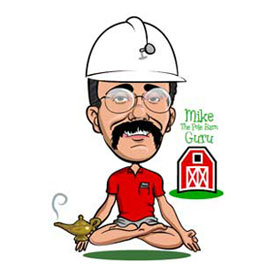 Welcome to part two of our three part series on determining the most effective building weather resistant barriers.
Let's take a look at a few weather resistant barrier choices:
WHAT NOT TO USE
Don't skimp on the weather resistant barrier "WRB"—either the product you use or the care you take to install it. Any WRB system you use will never be seen again once the cladding is on the house—unless it fails and someone needs to come in and remove the siding and repair any water-related damage.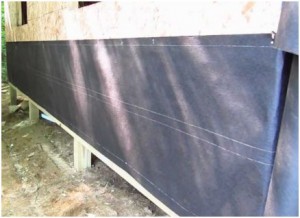 Although tar paper is still considered a code-compliant WRB material and is still used behind stucco and brick by many builders, my advice is to stay away from it—for two reasons. First of all, it won't stand up to constantly moist conditions. Second, it tears easily. Anyone who has ever stood a ladder against a tar-paper-covered wall knows this.
The degree of protection from water that house walls need depends on a house's design and the climate it's exposed to. That protection can be provided by good, better, or best ways to keep water away from the sheathing. Wet sheathing that can't dry will eventually rot, encourage mold growth, and lead to callbacks.
In general, avoid any housewrap that's not durable. My crews are diligent and careful, but some wraps can't stand up to much, if any, abuse. If a product tears easily, steer clear of it.
I also avoid perforated, pin-pricked plastic housewraps sold by the big box stores. If you can see though a sheet of housewrap when you hold it up to the light, it's a good indication that it isn't going to keep out water. To see the fallibility of the pin-pricked wraps, you can easily duplicate a quick demonstration that I show on my YouTube channel. Place a 12×12-inch square of one of the good housewraps mentioned below and a similar-size square of pin-pricked housewrap on top of a paper towel. Pour a few tablespoons of water on each housewrap square, then set a coffee mug on each water puddle. Wait five minutes, then lift up the mug and the housewrap and see which paper towel is soaking wet.
You might want to try this simple test using any housewrap you're considering. Then decide which product you want on the next house you build.
GOOD CHOICES
As building scientist David Nicastro, P.E., of Building Diagnostics, says, "It's not about keeping water out, it's about letting water out."
I like to use a housewrap that has a textured surface as the first defense for draining out moisture that infiltrates behind wall claddings. The small gap it creates between the back surface of the cladding and the sheathing allows water to drain away to the ground. Manufacturers use a variety of patterns and technologies to hold the siding away from the sheathing when it's installed.
Dupont, the parent company of Tyvek, manufactures a family of small-gap housewraps. Two that I use are Tyvek Drainwrapand Commercial Wrap D. The main differences between them are that Commercial Wrap D is slightly tougher, and it has a longer UV-exposure time, so it will last longer if it's going to be a while before you install siding. Both have a slight, almost crinkled corrugation, which when installed properly creates vertical channels for water to run out. Regardless of how tightly the siding is attached to the sheathing, Drainwrap and Commercial Wrap D create enough of a space between the back of the siding and the wall for water to drain away.
Benjamin Obdyke's Hydrogap housewrap has 1-mm–thick blue plastic oblong dots bonded to its surface. The thickness of the dots holds cladding away from the wall and creates a space for water to drain away. One of the things I like about Hydrogap is that it can be installed in any direction, even rolled out vertically, without its draining abilities being affected.
All the housewrap manufacturers sell proprietary tapes and flashing materials to use with their products. I stick with the manufacturers' branded tapes that go with their housewraps and prefer ones with butyl adhesives. Tyvek's StraightFlash and FlexWrap are among the best in the market.
Not all brands of housewrap are available everywhere in the U.S. If you can't find one of the brands I prefer, look for a wrap with some kind of built-in air gap. Once you find one, give it the tear test, and if you can get a sample, try the water test, too. Some housewraps can even be bought online. Benjamin Obdyke, for instance, will sell direct from its store website, and it offers free shipping.
Come back for tomorrow for part III of this three part series where we discuss the best weather resistant barrier options….