A Wind Uplift Story
This idiom is most usually associated with trying to revive interest in a hopeless issue. Those of you gentle readers with former spouses in your lives may very well have some understanding of this issue.
Well, sometimes there actually IS a dead horse…..
Many years ago, my future ex-wife and I traveled to the lovely island of St. Lucia. Located at the Atlantic Ocean end of the Caribbean, it is not far north of South America. Well, the ex-to-be and I got through customs and were on our way to our condo, when (as we were departing the airport) we noticed a dead horse along the road, with its legs straight up in the air!
I know it is a circuitous route I have taken in this article, but there is a point to it, which I will weave together…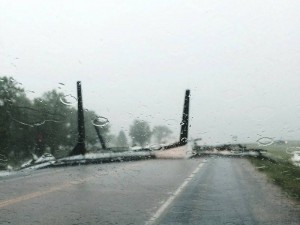 The photo with this is of an all steel building, which has relocated itself to a position other than where it was originally intended. It has literally "turned turtle" as it is laying on its back, waving its arms in the air.
Here is where I tie things together…..
Ready….
The turned turtle building photo reminded me of the St. Lucian dead horse.
Early in my days at M & W Building Supply, Jim Betonte of Farmland Structures had one of his crews assemble a 24 foot wide by 36 foot long by 10 foot tall pole building not far south of Canby, Oregon.
Building was finished, clients were happy – for a little while.
Until the big wind caught their three sided building (insights into three sided buildings are available here: https://www.hansenpolebuildings.com/2014/03/three-sided-building/) and turned it turtle. It was about as alive and useful as the St. Lucian horse.
Now 30 years ago, the structural design theories for wind were not nearly as advanced and refined as they are today….contributing to the demise of the pole barn. Other things which would have helped or prevented the turtling – the pressure treated posts were all to have been four feet in the ground and were more like 24 to 30 inches, and the column holes were to have been backfilled with concrete.
In any case, regardless of the building type – follow the foundation plans provided by the engineer of record for your building. Considering investing in an non-engineered building, or one without a foundation plan? Please think twice, so you do not become the owner of a turtle, or a dead horse!