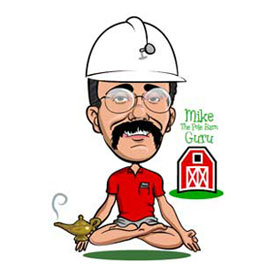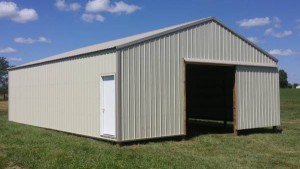 First the disclaimer – the photo is NOT of a Hansen Pole Building. It was provided and constructed by a small firm in Southern Missouri.  How small are they? Small enough to not have a website! And, according to the Better Business Bureau (of which they are not members), the business is under a year old.
Take a moment to examine the photo, and consider what about just the entry door portion of the building might possibly become an issue.
I will wait……
Now to the casual observer, challenges could include things like the door having "brick molding" around the perimeter of the door. Brick molding is usually a soft pine exterior trim which is designed to wrap entry doors in residential applications. The pine will deteriorate in weather, especially if joints are not caulked properly.
Wooden brick molding comes with a primer coat of paint and must have additional paint applied to protect the wood from rotting. In post frame construction, this extra layer of paint is rarely added.
Steel J Channel is placed around the outside of the brick molding, to receive the cut edges of the steel siding. This leaves a seam between the brick molding and the J Channel which should be caulked, to prevent water infiltration, but rarely, if ever is.
The wooden jambs on the door pictured, also present a significant source of future grief. Besides the aforementioned issue of decaying wood and having to be painted, wood jambs will not resist the implied forces of a good swift kick – allowing the not-so-honest folks quick and easy access.
Both of the above could be easily solved by use of a pre-hung insulated steel entry door, with pre-painted steel jambs.
The issue which I caught right away is the small band of siding beneath the entry door.  The Building Codes require landings on the exterior side of egress doors.  To install a landing (without the need of a major step), a concrete landing is typically poured up against the pressure preservative treated skirt board at the perimeter of the building.
Learn about landing requirements here: https://www.hansenpolebuildings.com/2015/02/landings/
In the photo, this would necessitate having to pour concrete up against this small band of steel – a less than desirable situation.
Want a building designed right, where the smallest details are considered in detail? Rely upon an experienced post frame building supplier.