Pizza Hut®
Back in the late 1970's I was jack of all trades, master of a few at Coeur d'Alene Truss in northern Idaho. While we were the "only game in town" with our nearest competitors 30 miles away in Spokane, every once In a while there was a roof truss job I did not sell.
In my early 20's my goal then was to be the greatest truss salesman of all time and I took a great deal of pride in my work. I didn't ever mind losing a sale – if I had been given the opportunity to give it my best shot. It was the ones which I never got to quote, which frosted me. One of those was the Pizza Hut® on West Appleway Drive in Coeur d'Alene, and I absolutely refused to ever buy pizza there because of it.
I know – I was pretty over the top!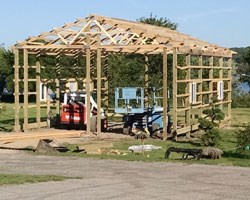 For the last few days, I have been watching a new pole building being constructed across the street from our house in Browns Valley. The building's owner knows we provide pole building kit packages, yet he opted to not even discuss his new building with us. His reason was "I've always bought from X company." Read on and you'll find out why this is not always the best reason to buy from the same place.
The first hint I had of him even considering a new pole building was last Wednesday morning when a truss truck pulled up to deliver what were quite obviously (to me anyhow) trusses for a pole building!
I have to say – his new 26' x 40' x 14' pole building is going to become the brunt of several posts over the next few days, as I point out how pole buildings should and should not be constructed, using his building as an example.
This particular building site is on a lakefront lot on the western shores of Lake Traverse. Now according to the Minnesota Department of Natural Resources, "Traverse Lake is located in western Minnesota just north of Browns Valley. It is a narrow lake that measures 16 miles long and up to two miles wide. Traverse has a surface area of 11,528 acres and a maximum depth of 12 feet."
Hold the two miles wide thought in mind, while you scroll down to Exposure Factors at: https://www.hansenpolebuildings.com/calculating-loads/. This building site is close enough to the lake so as I could easily throw a Frisbee™ from it and hit the lake, having only a few scattered 15 foot tall trees in the way.
Even if the lake were to be ignored, to the north and south of the site there is nothing taller than 30 feet high which would break the wind. Only in one direction (the West) are there trees which would block the wind. At best – Exposure C for wind. Exposure D if you count the lake (I would).
Other factors to be considered are snow load and frost depth. The ground snow load here is 50 psf (pounds per square foot). In the neighboring Traverse county, Minnesota (directly across the lake) the frost depth is five feet, so it is unlikely crossing the lake is going to be any different. (Minnesota frost depth map is here: https://www.dli.mn.gov/ccld/pdf/bc_map_frost_depth.pdf). Keep those numbers in mind….snow load at 50 psf and frost depth 5 feet…and we'll play with those numbers tomorrow.
One factor which will come into play is Roberts County, South Dakota (where the building is located) does not do any structural plan reviews or field inspections. For a nominal fee, new buildings are merely added to the property tax rolls!
Tune in tomorrow, as things get to be even more fun!