As Seen on TV
Reality TV has truly infiltrated, if not saturated, the lives of most cable television watchers. Amongst the favorites seem to be "home improvements" and "makeovers".
We've been asked to participate in several of these home improvement tv shows and this is our take from being the supplier of pole (post frame) building kits:
Lack of planning – within a week of a show filming, we've been asked to design, provide plans, obtain permits, deliver materials and be onsite as experts to guide construction. And to do it all for free (and in some cases, be forced to pay for advertising)! Not happening.
Or,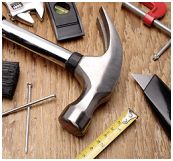 Lots of planning – as someone from an obscure cable network with 14 viewers tries to get a free or significantly reduced price building, which will be "featured" for their viewership. Again, not happening.
Thinking you would love to be a participant on one of these home improvement tv shows? There are a few things you might want to know.
First, consider the golden rule of real estate: location, location, location. Check the "casting call" pages for shows on the DIY Network and HGTV and you'll notice to be eligible for a makeover, homeowners usually need to live in or close to a specific city.
You'll also need to be "energetic" and "personable," at least this is how the websites describe the homeowners who'll be selected. You're usually asked for photographs or video of yourself and your property. In other words, the producers are generally looking for camera presence.
They also want some measure of do-it-yourself skills, or at least a willingness by newbies to attempt them in front of a lens.
And you should know not all TV makeovers are really free. Some shows expect you to pay the bills.
You'll need a budget of at least $20,000 (and live within 35 miles of New York City) to be featured in DIY Network's 10 Grand in Your Hand, in which homeowners seeking to save this amount do hands-on work typically handled by contractors.
At least a $5,000 budget (and a home near Minneapolis) is needed for DIY's Sweat Equity. A few shows provide free labor and materials, but you may be liable for taxes for the donated materials.
For PBS's This Old House, the granddaddy of home improvement tv shows, you can expect to put up even more. "All out-of-pocket costs are paid for by the homeowners," reports Jessica Hartzell of WGBH Boston. "However, the show coordinates product discounts and donations where possible."
This Old House projects tend to be multi-room and focus more on preservation than simple renovation. Only two renovations are done each year, one in the Boston area and the other is often in a warmer climate.
"The TV crew looks for an old house with plenty of features to save and update," Hartzell adds, and owners who "aren't camera-shy." Projects need to be completed within seven months.
For sister show Ask This Old House — where a host comes to viewers' homes for everyday repairs — labor and materials are, for the most part, provided free and homeowners are invited to help.
Unless you have the extreme hankering to be a television celebrity (or get your few minutes of fame), and have lots of extra time and money on your hands, home improvement and makeover TV is best watched from the comfort of your own living room!