When my first born daughter Annie was alive, her favorite ride at Disneyland® was the Big Thunder Mountain Railroad. She and I spent an entire rainy evening riding it over-and-over as there were no lines and it was just a matter of getting from the exit back to the entrance to start all over again.
Although we spent no time stopping to admire the scenes along the line queue, the last half of it is a series of Wild West themed features including buildings alongside the track representing what was originally the "town" of Rainbow Ridge and a water cranking machine. The town is now known as Big Thunder, but originally it was one of several elements from the Rainbow Caverns Mine Train (later known as the Mine Train through Nature's Wonderland) which transported Disneyland® guests around Frontierland from 1956 until 1977. All of the "old timey" buildings of Big Thunder feature rusted steel roofs.
You can read more about the Big Thunder Mountain Railroad here: https://disneyland.disney.go.com/attractions/disneyland/big-thunder-mountain-railroad/
Back in 1983 Annie and I were too busy having fun and laughing to ever envision I would someday be writing about our experience. I've written about those rusted steel roofs previously: https://www.hansenpolebuildings.com/blog/2011/09/537-cold-rolled-steel/
Hansen Pole Buildings is one of the largest customers of American Building Components (ABC® https://www.abcmetalroofing.com) who manufactures a steel roofing and siding product known as "Rustic Trail".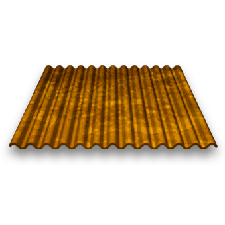 If you are going for the weathered or aged look of Disneyland's Big Thunder Mountain Railroad on your building, then ABC's Rustic Trail product is the perfect solution for your project. The Rustic Trail panel is recommended for installation in low humidity, arid and semi-arid climates.
Rustic Trail is roll formed from a thick 22 gauge steel and provides 32" coverage on walls and 29.33" coverage on roofs. The panels are uncoated and unpainted to allow for accelerated oxidation to provide a natural iron oxide (aka rusted) finish on the surface of the panel. The panels are manufactured to order in ¼" increments. Un-formed flat sheets and custom trim components are offered in matching material and a full line of accessories are available.
The cold rolled bare steel from which the Rustic Trail panels and/or trims are manufactured are intended to naturally oxidize and rust. For this reason, it is recommended the products are used only in arid to semi-arid climates and not installed in a manner which allows for ponding water. The recommended minimum roof pitch is 3:12. Water runoff from Rustic Trail products can and will stain surrounding surfaces, which could include walls, driveways and sidewalks.
Carry home your own remembrance of Disneyland's Big Thunder Mountain, with Rustic Steel panels on your new pole building!